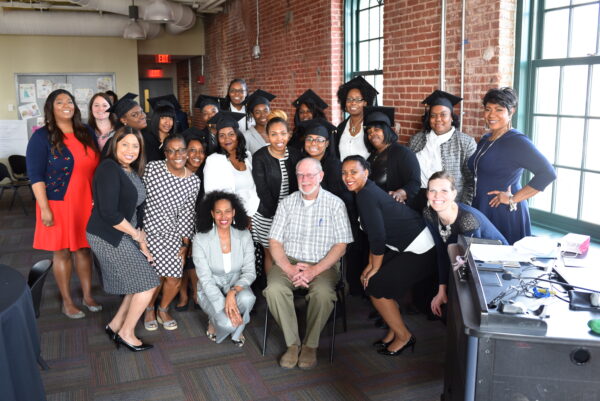 Congratulations to our April 2018 cohort of Administrative Training graduates! This graduating class was an incredibly bright and diverse group of 12 women, between the ages of 20 and 40+, 3 of whom have advanced degrees. We are proud of our graduates and look forward to following them in their future administrative careers!
Humanim's Administrative career training program is offered in partnership with CCBC, Baltimore Integration Partnership, UMB, UMMC, Towson, Morgan, Notre Dame, University of Maryland Faculty Physicians, JHHS, JHU and Mercy Hospital. The 10 week program prepares Baltimore City residents for employment in administrative positions. Participants are trained in office skills including Microsoft Office and Google documents, and go through an extended training program to receive nationally recognized certifications: Microsoft Office Specialist or Professional Administrative Certificate of Excellence. At completion, participants are placed into entry-level administrative positions at partnering anchor institutions.
When we started the administrative assistant training program, it was in result of the civil unrest that happened in April 2015 after the death of Freddie Gray. As a solution for lack of access to career training and opportunities, we created this program in partnership with several anchor institutions and the Baltimore Integration Partnership. By the end of 2016, we had successfully trained 39 individuals, and placed 33 into a full time administrative career. Last year we received funding to a new grand called EARN through the MD Department of Labor, Licensing and Regulation and were successful in placing all 13 graduates into employment within one month of program completion, due to the help of our anchor partners.
Our anchor partners have been instrumental in providing support to our trainees by way of participating in mock interviews, informational sessions at their institutions and assisting our trainees with meeting decision makers who ultimately help us obtain placements. We thank you.
View photos from last week's graduating ceremony here.