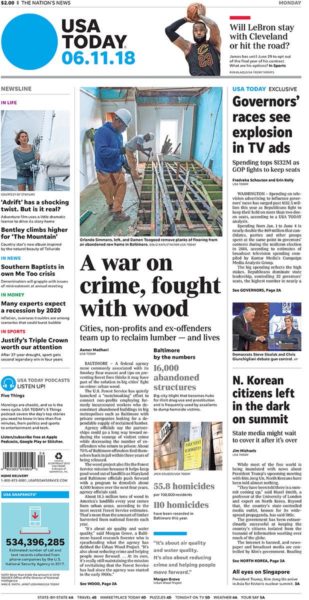 Job creation. Crime reduction. Community development. Reclaiming and recycling Baltimore's wood. USA Today's front page story highlights the environmental & social impact of our partnership with the US Forest Service, Baltimore City, and the State of Maryland through Project CORE – including our social enterprises Details Deconstruction and Brick and Board, as well as the national furniture retailer Room and Board. Read about what makes the Baltimore Wood Project unique from other cities + the human stories behind it, at USA Today.
From the article:
"The U.S. Forest Service has quietly launched a "matchmaking" effort to connect non-profits employing formerly incarcerated workers who deconstruct abandoned buildings in big metropolises such as Baltimore with private companies looking for a dependable supply of reclaimed lumber. Agency officials say the partnerships could go a long way toward reducing the scourge of violent crime while decreasing the number of ex-offenders who return to prison: About 70% of Baltimore offenders find themselves back in jail within three years of being released.
…
The wood project also fits the Forest Service mission because it helps keep good wood out of landfills as Maryland and Baltimore officials push forward with a program to demolish about 4,000 homes over the next four years, agency officials said. About 14.5 million tons of wood in America's landfills every year come from urban areas, according to the most recent Forest Service estimates. That's more than the amount of timber harvested from national forests each year.
…
Around the country, other cities — including Chicago; Cleveland; Dayton, Ohio — have programs that pay former offenders or even jail inmates to demolish homes. But the Baltimore program operated by Humanim is unique for its focus on deconstruction and refurbishing reclaimed wood. Forest Service officials say the Baltimore pilot has proved that the federal agency can play a unique role helping local non-profit agencies doing deconstruction work quickly scale up and build partnerships with national retailers that can provide a consistent stream of orders."
Read the full article here.