Though we take many paths to meet our mission at Humanim, we are united and guided by Human Purpose, and we measure our success in Human Impact.
Each and every individual we serve at Humanim has a story, and each story is testament to the power that building pathways to economic equity, opportunity and independence brings to the lives of individuals who have faced social and economic challenges.
---
Behavioral Health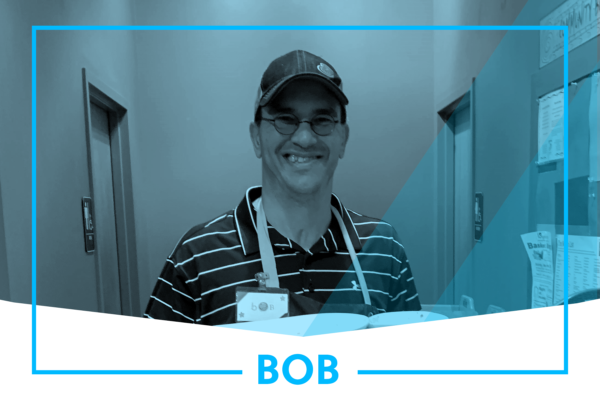 "Humanim has helped me to find jobs, offered me support when needed during employment and maintained healthy communication with me throughout my career. I feel that Humanim has helped me to grow and mature as a person. I would not be the man I am today without their help."
Bob first began Humanim's Evidence Based Practice Supported Employment program (EBSE) in 2011. At the time, he needed help finding competitive employment and a supportive work environment. A part of Humanim's Behavioral Health department, the EBSE program supports individuals who experience severe mental illness by helping them achieve steady, competitive employment, while focusing on individualized support and self-empowerment. The EBSE program is centered on the principle that competitive employment is not only attainable for people with mental illness, but in many cases can be part of their recovery process.
With the assistance of Humanim's EBSE program, Bob learned self-advocacy skills while exploring his career direction and maintaining steady employment over the past 8 years. In October 2017, he started a new position at Panera Bread as a Restaurant Associate, which he soon realized was a great fit for him. The company agreed, and the part-time position quickly moved to full-time thanks to his enthusiasm and excellent customer service skills. Bob continues to excel at his job at Panera, demonstrating great motivation and dedication at work, and is glad to have found a career that he enjoys.
---
Workforce Development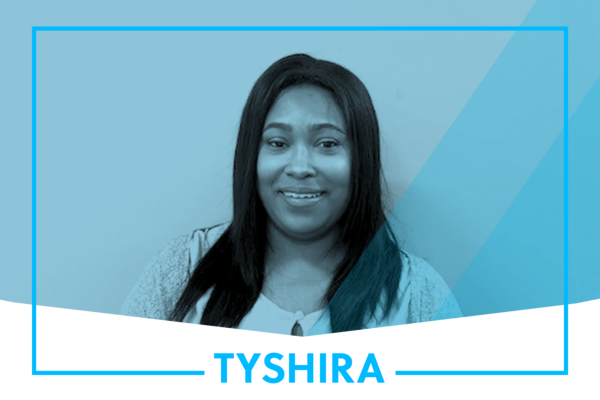 Unemployed at the time, Tyshira ("Shira") signed up to participate in Humanim's administrative career training program in 2016. With the support of her career training team, Shira was hired by Humanim's social enterprise Details Deconstruction upon graduation as their Administrative Coordinator, starting at $11.46/hour with full benefits. During her first year at Details, Shira adeptly put her training into practice, proving to be an essential team member who consistently went above and beyond expectations. The team's morale became a high priority for her as well; Shira regularly brought snacks for crew members to enjoy after a long day at the construction site, cheerfully noting that a popsicle was an easy way to put a smile on someone's face.
When City Seeds needed an administrator with accounting capabilities, Shira rose to the challenge and made a move. At her new position, she thrived on learning new skills – from graphic design to event execution – and always with a smile. Her work ethic and ability to quickly master new responsibilities not only elevated her to the role of Catering & Events Coordinator, where she was earning $15/hr – it opened up new opportunities. Shira was recently hired as Administrative Coordinator at Johns Hopkins University Krieger School of Arts, where she is earning almost twice as much as she was when she first started, with increased benefits including free and reduced education reimbursement, which she plans to take full advantage of.
When asked what advice she would give to others who want to follow her path, Shira said, "I encourage anyone to take advantage of the opportunities offered by Humanim. My mindset 10 years ago would have been to not stay in that class, but I changed my mindset and got my head in the game. I wanted to gain the skills and was willing to take on any task and gain the experience. When Johns Hopkins saw my resume, they saw that I have so many transferable skills. I can do it, I'm here. I like the challenge."
---
Developmental Disability Services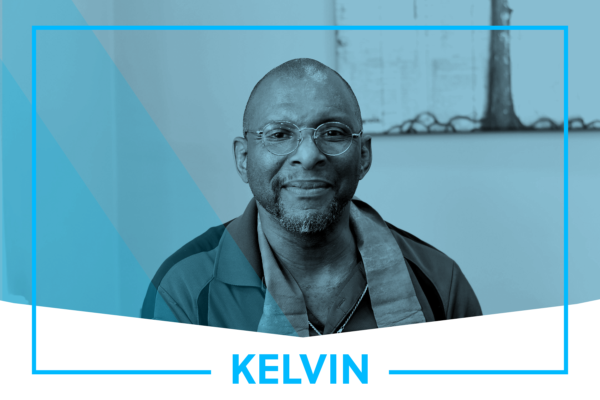 In 2005, Kelvin moved from New York to Maryland and was looking for organizations to help him get out and get to know his new community. Shortly after moving, he joined Humanim's Day Program and began vocational services where he started working with his Employment Consultant & Job Coach, Maureen Howley. From the beginning, Kelvin has been very involved in his employment services and willing to try out various types of employment to find his expertise. Some of these jobs included warehouse recycling, courtesy clerk, janitorial, and working at Sims Warehouse, Harris Teeter, and a Rehab Facility. However, it wasn't until he began at Heartlands Senior Living Village that he found a job he enjoyed. Kelvin takes pride in his role as a kitchen staff, where he has been employed for two years. He enjoys getting a head start and staying ahead of the system, always thinking of more effective ways to do things, such as double-gloving so that he can easily change gloves, and double-bagging the garbage to keep things clean. "Once you already know what you're doing, you can put it into operation and turn it into a skill," he says. In addition to his innovation and dedication to his role, Kelvin has also learned how to better communicate with his co-workers and supervisors. Being involved in Humanim's programs has helped Kelvin acclimate to Maryland and meet people in the community, and being employed he says has "helped me financially, pay the bills, and save some money."
Kelvin's hard work and dedication were recently recognized as he was named Employee of the Month in June! The award included a $100 bonus – and residents voted for him to be a recipient of their Gratuity Fund, matching Heartlands Employee of the Month bonus. Maureen shares "Kelvin's eccentric personality has made him a true asset to the Heartlands community. He's always willing to go above and beyond to help his peers and entertain the residents, leaving everyone he encounters with a smile and a laugh!"
---
Youth Services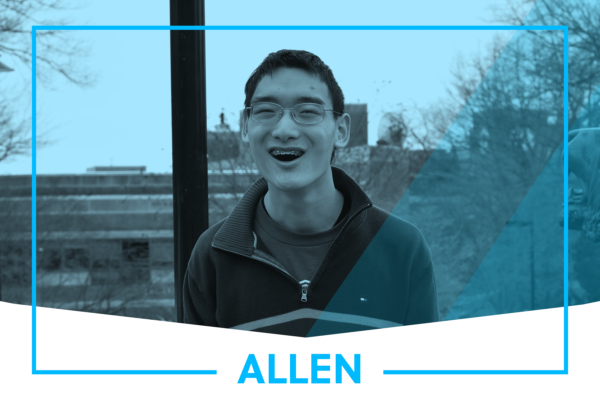 "Healthy Transitions is my favorite program to help you change yourself. It has helped me a lot with my personal health and in taking care of myself."
Allen was referred to Humanim's Healthy Transitions program in April 2018, which helps young people who are struggling with mental illness successfully transition into adulthood. An accomplished pianist, Allen had recently been accepted to Towson University's music program, but found the prospect of transitioning to life after high school daunting. Socializing and being separated from his family was very difficult for him, and he didn't feel like he could make the transition. "I felt like I worried a lot about it, and was very nervous."
Through the program, Allen began to socialize with peers through movies and workshops, as well as learn stress management and coping skills such as using imagery, taking a walk, and listening to music. His family and support team at Healthy Transitions, including his HT coordinator Dean with whom he is very close, encouraged him to try living on campus, and eventually Allen agreed.
When he first moved on campus, Allen felt anxious and angry and didn't want to leave his room. However, with the support of his HT team, he eventually began to adjust to living on his own. Although he still sometimes gets homesick, Allen is now enjoying his newfound independence and the perks of living on campus, such as the cafeteria food and his piano classes. He is also excited about his future, in which he hopes to one day become part of a symphony.
Allen credits his HT coordinator Dean for helping him build confidence through positive feedback and encouragement, and for allowing him to talk about his feelings. The HT program has given him the support to adjust to and enjoy his newly independent life, which he says is "pretty good."
---
Social Enterprise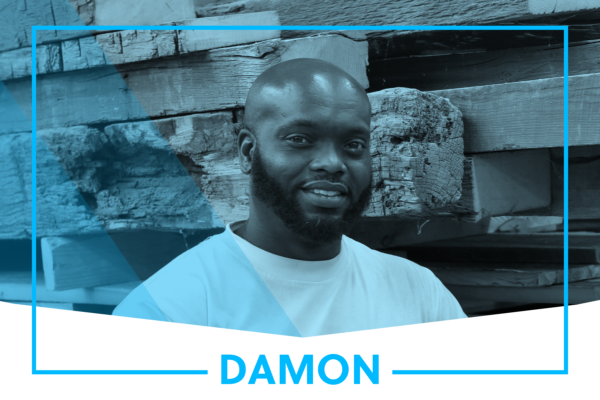 In 2013, Damon had recently completed a sentence of nearly five years for drug-related charges, and was seeking an opportunity that could help him change his life. "I knew I couldn't stay on the same path. My daughters were big motivators for me to change. I just wanted to do better with my life," he says.
Being formerly incarcerated with little previous work experience, Damon found it difficult to find employment apart from his job at McDonald's. Having two daughters to care for, he knew that his current employment wasn't enough for a sustainable income and was seeking another option. After six months of searching, his cousin told him about Details Deconstruction, a Humanim Social Enterprise. He decided to apply, and the very next week he began in an entry-level deconstruction position.
Damon started out at Details with training and basic deconstruction, before steadily moving up the ranks to Crew Leader, and eventually Deconstruction Team Foreman, a position he has held for the past two years. He now supervises a crew of seven employees, making sure the sites are safe and running well. "I started at base level at Details and moved my way up. Other jobs would shoot me down. I learned everything here. I like it. I don't just sit back, I lead by example."
Having stable, long-term employment and a career trajectory has impacted Damon's life in many ways, from purchasing his first home to helping his daughter through college. "It made me a better father. I look forward to making sure my kids are straight, that I'm there for them more than anything. I'm more hands- on in their life now." When asked about his two daughters, Damon beams with pride. One is in middle school, and the other is currently completing her Master's degree in Criminal Psychology.
When reflecting on how much his life has changed in the last six years, and the advice he would give to others, Damon says "there's no need to be ashamed of your story." He encourages others who want to make a change in their lives to keep going, and never give up.
"Being financially free, not having to look over my shoulder – it impacted a lot. The past is the past, we all have to move forward. It's what you do with the past. Anybody that has barriers to employment, when they come here [to Details] they don't look at you in any different way. They welcome you in, they work with you. If you come here they will help you."