Though we take many paths to meet our mission at Humanim, we are united and guided by Human Purpose, and we measure our success in Human Impact.
Each and every individual we serve at Humanim has a story, and each story is testament to the power that building pathways to economic equity, opportunity and independence brings to the lives of individuals who have faced social and economic challenges.
---
Behavioral Health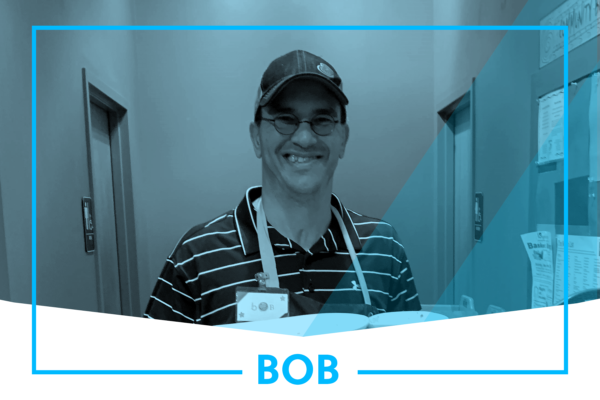 "Humanim has helped me to find jobs, offered me support when needed during employment and maintained healthy communication with me throughout my career. I feel that Humanim has helped me to grow and mature as a person. I would not be the man I am today without their help."
Bob first began Humanim's Evidence Based Practice Supported Employment program (EBSE) in 2011. At the time, he needed help finding competitive employment and a supportive work environment. A part of Humanim's Behavioral Health department, the EBSE program supports individuals who experience severe mental illness by helping them achieve steady, competitive employment, while focusing on individualized support and self-empowerment. The EBSE program is centered on the principle that competitive employment is not only attainable for people with mental illness, but in many cases can be part of their recovery process.
With the assistance of Humanim's EBSE program, Bob learned self-advocacy skills while exploring his career direction and maintaining steady employment over the past 8 years. In October 2017, he started a new position at Panera Bread as a Restaurant Associate, which he soon realized was a great fit for him. The company agreed, and the part-time position quickly moved to full-time thanks to his enthusiasm and excellent customer service skills. Bob continues to excel at his job at Panera, demonstrating great motivation and dedication at work, and is glad to have found a career that he enjoys.
---
Workforce Development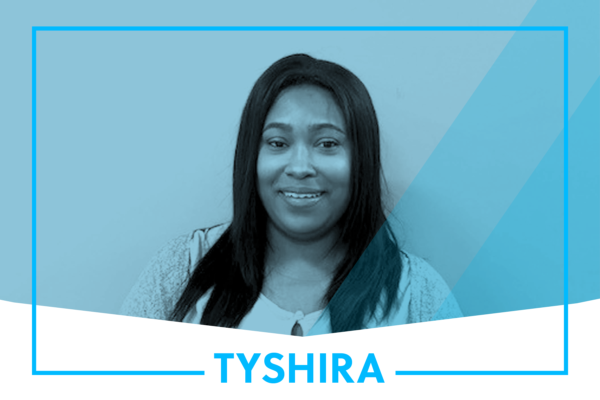 Unemployed at the time, Tyshira ("Shira") signed up to participate in Humanim's administrative career training program in 2016. With the support of her career training team, Shira was hired by Humanim's social enterprise Details Deconstruction upon graduation as their Administrative Coordinator, starting at $11.46/hour with full benefits. During her first year at Details, Shira adeptly put her training into practice, proving to be an essential team member who consistently went above and beyond expectations. The team's morale became a high priority for her as well; Shira regularly brought snacks for crew members to enjoy after a long day at the construction site, cheerfully noting that a popsicle was an easy way to put a smile on someone's face.
When City Seeds needed an administrator with accounting capabilities, Shira rose to the challenge and made a move. At her new position, she thrived on learning new skills – from graphic design to event execution – and always with a smile. Her work ethic and ability to quickly master new responsibilities not only elevated her to the role of Catering & Events Coordinator, where she was earning $15/hr – it opened up new opportunities. Shira was recently hired as Administrative Coordinator at Johns Hopkins University Krieger School of Arts, where she is earning almost twice as much as she was when she first started, with increased benefits including free and reduced education reimbursement, which she plans to take full advantage of.
When asked what advice she would give to others who want to follow her path, Shira said, "I encourage anyone to take advantage of the opportunities offered by Humanim. My mindset 10 years ago would have been to not stay in that class, but I changed my mindset and got my head in the game. I wanted to gain the skills and was willing to take on any task and gain the experience. When Johns Hopkins saw my resume, they saw that I have so many transferable skills. I can do it, I'm here. I like the challenge."
---
Developmental Disability Services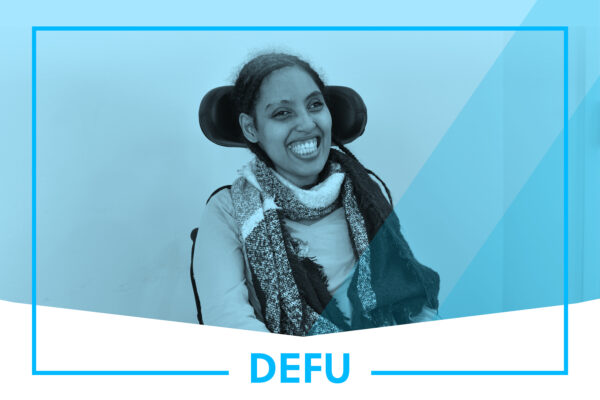 Defu first came to Humanim's day program in 2009, after being referred by the Howard County Public School System. Defu's sunny disposition and great social skills quickly endeared her to her peers and staff.
In 2014, Defu began participating in Athletes Serving Athletes after they visited Humanim to recruit participants. ASA, an organization started in Baltimore to empower individuals with limited mobility to train for and participate in mainstream running events, quickly became a passion for Defu. She went on to compete in the Iron Girl competition for the next 3 years, and became a 2 time Baltimore Marathon runner, as well as ASA's very first female triathlete. "It helped me with my confidence and talking to people more. I'm more outgoing now than I was before," Defu says of her ASA experience.
After becoming a decorated ASA athlete, Defu decided she wanted to pursue employment, and entered Humanim's employment services in 2018. Due to her limited physical abilities, she found it difficult to find employment that fit her skill sets. After a year of job searching, some of Defu's staff got together to brainstorm the best action plan for finding employment, and decided to reach out to places with whom Defu already had a strong relationship. ASA was a natural place to start, and soon after approaching the organization, they brought Defu on to become their paid spokesperson, a perfect fit for her determination, outgoing personality and ability to motivate others. As ASA's spokeswoman, Defu speaks with potential sponsors and donors, as well as at ASA events to share her experiences and recruit volunteers.
"We are thrilled for Defu to be able to share her story and share the joy and opportunities that ASA has brought to her life.  We are so proud of Defu and honored to have her speak on behalf of ASA," says Julia Kardian, Director of Development at ASA.
Defu says the opportunity with ASA has been an incredible experience so far, a natural extension of her passion for ASA, and has helped build her confidence as well.
"I was raised in a household where family is always number one. Humanim's like a family, so this is like a home away from home. This is the longest program I've ever been in because they make you feel like family. They treat us like human beings. Without Humanim I don't know where I would be. They have my back."
---
Youth Services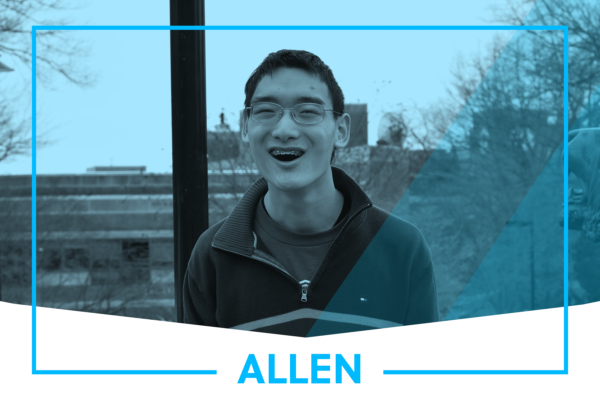 "Healthy Transitions is my favorite program to help you change yourself. It has helped me a lot with my personal health and in taking care of myself."
Allen was referred to Humanim's Healthy Transitions program in April 2018, which helps young people who are struggling with mental illness successfully transition into adulthood. An accomplished pianist, Allen had recently been accepted to Towson University's music program, but found the prospect of transitioning to life after high school daunting. Socializing and being separated from his family was very difficult for him, and he didn't feel like he could make the transition. "I felt like I worried a lot about it, and was very nervous."
Through the program, Allen began to socialize with peers through movies and workshops, as well as learn stress management and coping skills such as using imagery, taking a walk, and listening to music. His family and support team at Healthy Transitions, including his HT coordinator Dean with whom he is very close, encouraged him to try living on campus, and eventually Allen agreed.
When he first moved on campus, Allen felt anxious and angry and didn't want to leave his room. However, with the support of his HT team, he eventually began to adjust to living on his own. Although he still sometimes gets homesick, Allen is now enjoying his newfound independence and the perks of living on campus, such as the cafeteria food and his piano classes. He is also excited about his future, in which he hopes to one day become part of a symphony.
Allen credits his HT coordinator Dean for helping him build confidence through positive feedback and encouragement, and for allowing him to talk about his feelings. The HT program has given him the support to adjust to and enjoy his newly independent life, which he says is "pretty good."
---
Social Enterprise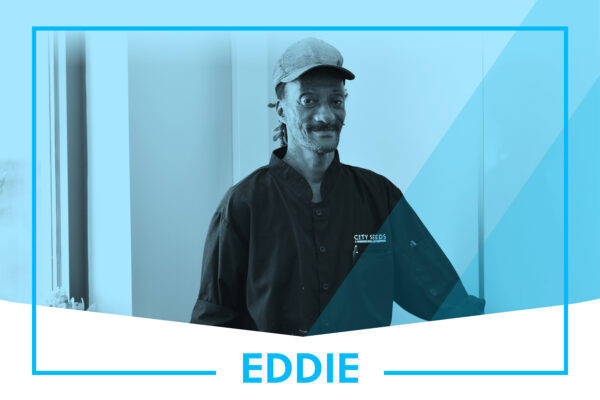 Eddie was referred to City Seeds through his sister-in-law at the Annie E. Casey Foundation, and started in August of 2018 as a Food Preparation worker. Previously in construction and food prep at Hotel Ivy's Magdalena, Eddie came to City Seeds with extremely limited experience in the culinary industry.
"I needed to start in Prep so I could find a love and respect for the food. I was scared of the knife and didn't know the proper technique. I didn't feel comfortable until I got to City Seeds, and Chef showed me how."
Eddie's dedication and willingness to learn and improve led him quickly to a promotion to a Cook 1 position. He is consistently the first person at the kitchen in the morning, ready to roll his sleeves up and get to work. His optimistic attitude and genuine personality adds to a positive culture in the kitchen and keeps his head high, even in moments of high-volume stress. Since starting, Eddie has earned his ServSafe certification and continues to advance in his kitchen skills. He's a loved member of the City Seeds team, who recognizes how much his love of learning will take him far.
Says Eddie, "This place is incredible. Being here I've learned things I never even thought I'd be interested in. I'm a beast with the dressings. To me, it goes past the food. They help so many people and connect with so many organizations, it's amazing. This place has taught me a lot."