Humanim's Direct Support Professional Apprenticeship Program is a statewide initiative that aims to increase Maryland's Direct Support Professional (DSP) workforce through the apprenticeship model. As a registered apprenticeship program with the Maryland Department of Labor, participants receive a combination of paid on-the-job training and classroom instruction within a variety of community-based settings, while earning professional certification through the National Alliance for Direct Support Professionals (NADSP).
THE DIRECT SUPPORT PROFESSIONAL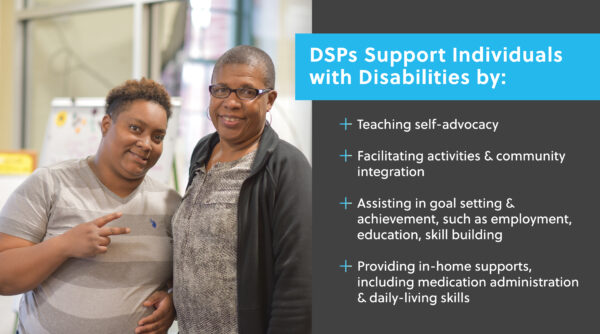 Direct Support Professionals (DSPs) are the front line staff who work directly with individuals diagnosed with an Intellectual or Developmental Disability (I/DD) to increase their quality of life, while encouraging growth and independence. One of the most important positions in Human Services, DSPs are the backbone of the system of care for individuals with disabilities, and the organizations who serve them.
HOW IT WORKS
Humanim's DSP Apprenticeship Program employs a combination of classroom instruction, online curriculum and on-the-job training (practicum).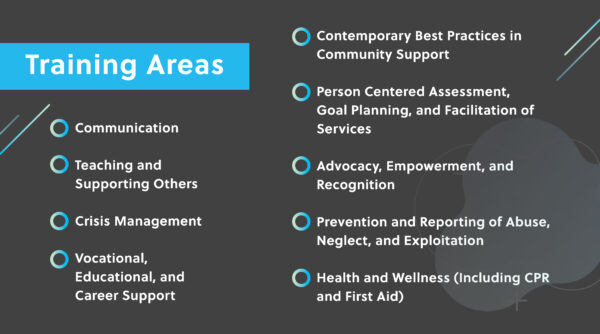 Classroom instruction focuses on providing practical advice about DSP interactions with the individuals they support, discussions about situations that have occurred on the job, and problem solving sessions centered around how to be more intentional in ones actions and behaviors as a DSP.
The online curriculum and certification is provided through the National Alliance for Direct Support Professionals (NADSP), and identifies the skills, knowledge, and ethical principles needed to be an effective DSP. The curriculum is comprised of 15 core competency areas, while measuring the quality of interaction between the DSP and the individuals served via testimonials.
APPRENTICESHIP MODEL
Humanim's program is designed to meet the key objectives of the state's apprenticeship model,
while elevating the DSP position into a long-term career path, and addressing the state's critical talent gap in direct client care. As the only one of its kind in Maryland, Humanim's DSP Apprenticeship Program expands the breadth of the apprenticeship model beyond traditional trades, while fulfilling its key objectives of increased employment through targeted job training and career development.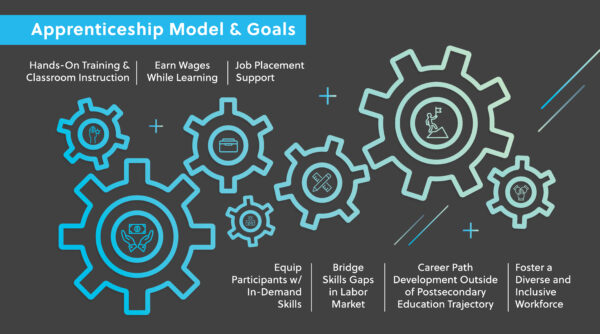 Both existing and new DSPs can participate in the adult apprenticeship program, allowing them to receive training and earn professional certification while on the job. Adult apprentices have the opportunity to complete multiple levels of certification, each with their own pay incentive.
The program also creates equitable career paths for high school students outside of the 4-year postsecondary education track, providing a platform for students to engage in career exploration, gain real world work experience, and build professional skills – all while earning a wage.
Youth apprentices who complete the program successfully have a guaranteed path to employment after graduation. For those who decide that direct support is not the best career option for them, they will leave the program with a foundation of professional, in-demand skills that will translate to other meaningful careers, such as nursing and CNA work.
Apprentice Benefits Include:
Adults
△ Earn While You Learn!
△ Enhance Your Skills & Build Your Resume
△ Advance in Your Career
△ Earn More Money Doing the Job You Love!
Youth
△ Earn While You Learn!
△ Get Real World Job Experience & Gain Professional Skills
△ Develop a Career Path
△ Have Job Opportunities After You Graduate
TRAINING PATHS
HOW TO APPLY
Complete our electronic Interest Form
QUESTIONS?