30th Anniversary Volunteer Event & Celebration
June 7, 2014 — 8:30am – 3:00pm
Location: Ben Cardin Pavilion in Leakin Park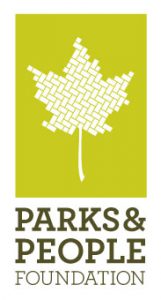 Parks & People Foundation is turning 30! Come celebrate with us on June 7th (also National Trails Day) for a volunteer park/trail/stream clean-up activity and party. The volunteer activity will take place from 8:30am – 12:30pm, and the Celebration BBQ will take place from 12:30pm – 3:00pm.
Volunteers will clean the stream and improve the riparian buffer with native plants in Winans Meadow (Gwynns Falls Trail, Trailhead 2). A BBQ will follow nearby at the Ben Cardin Pavilion. It will be a Parks & People REUNION!
There will be BBQ, salads, refreshing beverages (including beer and wine), music by Community Groove, and fun, hands-on environmental education offerings.
As gifts, there will be mason jars with the Parks & People logo on them for drinking (mostly beer) out of and a special commemorative poster designed by our logo designer Orange Element
Want to support this event financially? Click here to contribute to our 30th Anniversary volunteer event.
Christy Miller
Development & Promotions Manager
Parks & People Foundation
800 Wyman Park Drive, Suite 010
Baltimore, MD 21211
Phone: 410-448-5663, ext. 123
Fax: 410-448-5895
christy.miller@parksandpeople.org
www.parksandpeople.org