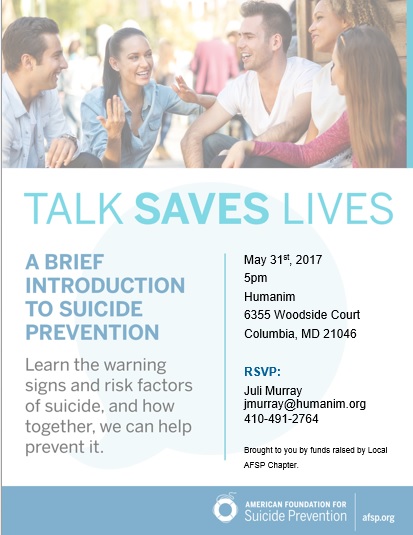 Join us for our Talk Saves Lives event on May 31st, for a brief introduction to suicide prevention.
This event will help youth and families learn the warning signs and risk factors of suicide, and how together we can help prevent it.
This event is brought to you by Humanim's Healthy Transitions program and the Howard County Local AESP Chapter, as part of Mental Helth Awareness month.
It is free and open to the public.
When: May 31st, 2017 at 5PM
Where: Humanim
6355 Woodside Court
Columbia, MD 21046
For questions or to RSVP, contact our Healthy Transitions Coordinator Juli Murray at jmurray@humanim.org