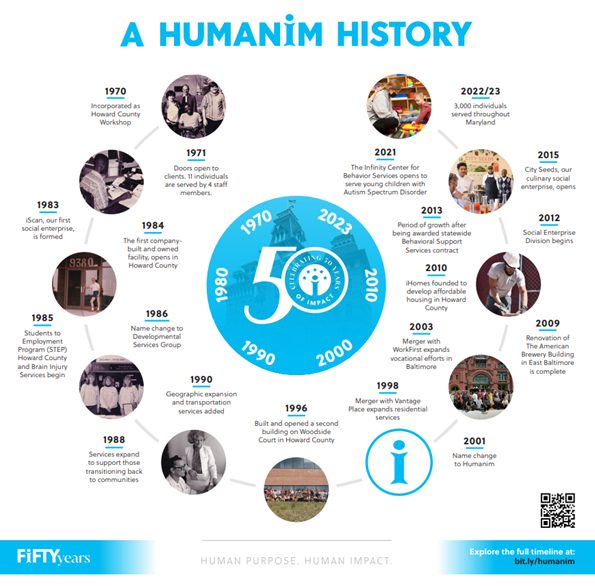 Last Thursday, we celebrated 50 years of providing life-changing services and pathways to economic equity, opportunity, and independence. With great food, inspiring stories, and the overwhelming support of sponsors, guests, and partners, this event left an unforgettable mark on the hearts of all who attended. As we reflect on the evening's festivities, we are filled with gratitude for the past and brimming with hope for another impactful 50 years of service to our community.
Board Chair, Melanie Lundquist, honored retired President & CEO, Henry Posko, for 40 years of service.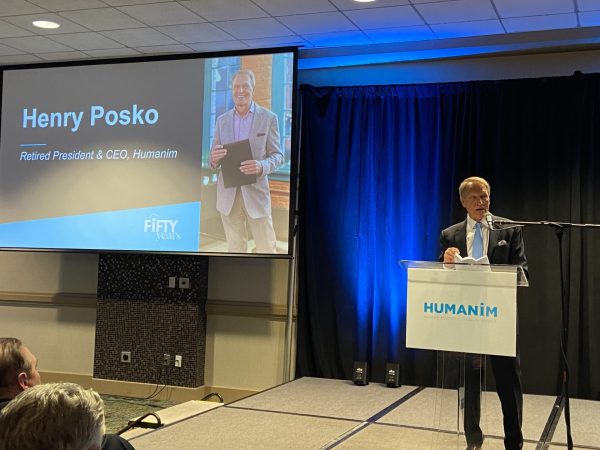 President & CEO, Cindy Plavier-Truitt, presented our first Legacy Award to long-standing board member, David Eberhardt, for 30+ years of commitment and dedication to our mission.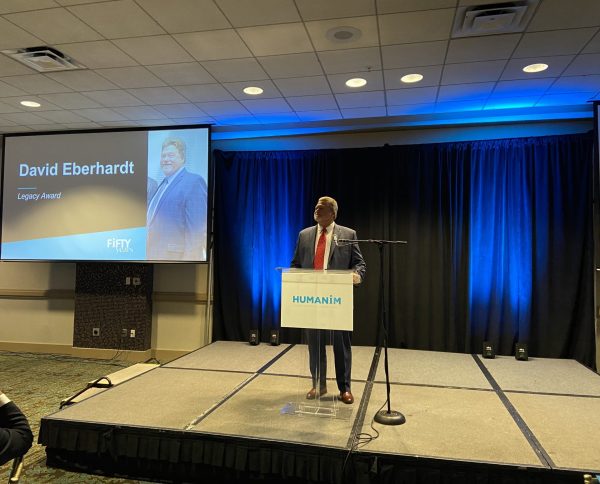 Cindy also spoke about Humanim's extensive array of services and the vision for the future. With a heart full of gratitude, she expressed her commitment to continue impacting the lives of Marylanders, ensuring that every individual, regardless of their circumstances, has access to the resources and opportunities they need to thrive.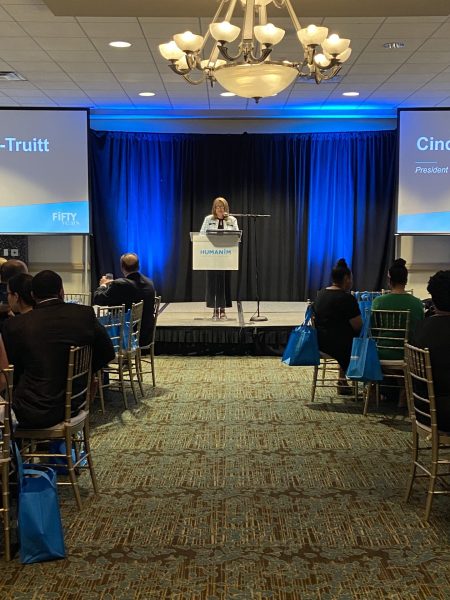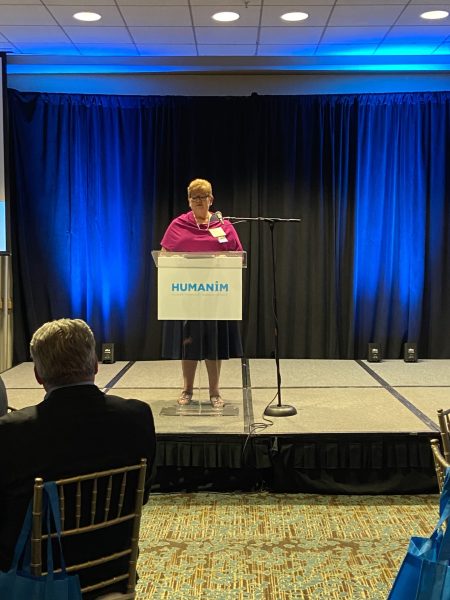 The highlight of the evening was undoubtedly the stories shared by program participants and their family members whose lives have been forever transformed because of Humanim. As they took to the stage, their words carried the weight of profound experiences, resilience, and triumph. From tales of personal growth and professional development to stories of overcoming adversity and finding renewed purpose, each testimony resonated deeply.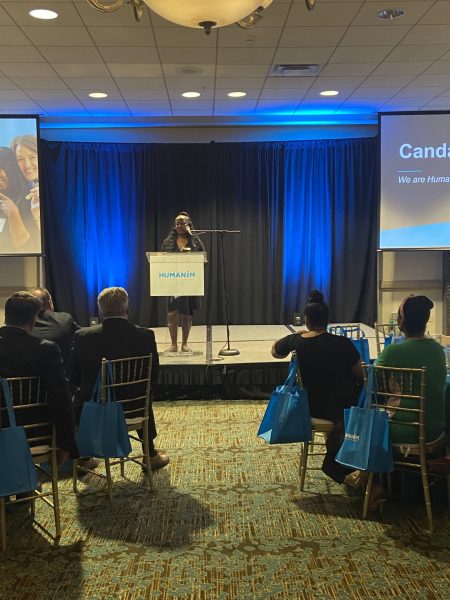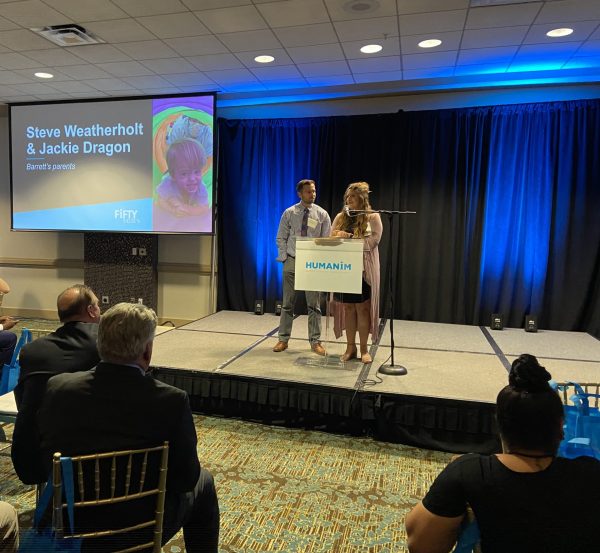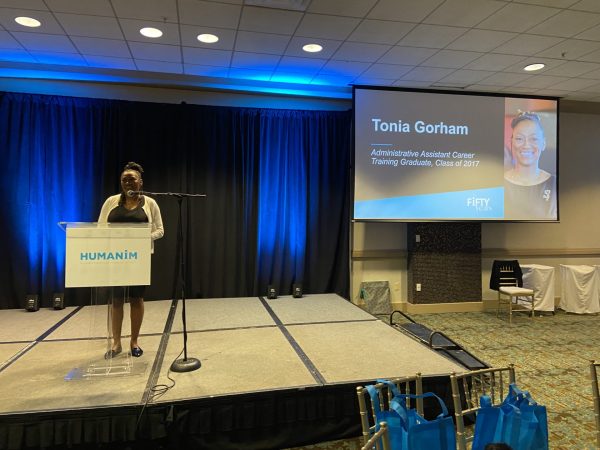 The success of Humanim's 50th Anniversary Celebration would not have been possible without the generous support and attendance of our sponsors, guests, staff and partners. Their commitment played an instrumental role in making this evening extraordinary. It is through their contributions that Humanim is able to continue this vital work, empowering individuals to lead fulfilling and independent lives.
Advocate Level Sponsors
BGE
Johns Hopkins University & Medicine
University of Maryland Medical System
Partner Level Sponsors
Corporate Office Properties Trust
Emerald Custom Builders Inc.
Hillmuth Auto Care
Merritt Properties
Quinn Evans
Sandy Spring Bank
Saul Ewing
Venable LLP
Friend Level Sponsors
CBIZ
Hartman Executive Advisors
Kelliher & Salzer, LLC
KPMG
Standard Energy Solutions
The Lundquist Family
United Healthcare
United Way of Central Maryland
Supporter Level Sponsors
Aquafit Physical Therapy
Rotary Columbia Town Center
Devaney & Associates, Inc.
Horizon Foundation
Howard County Department of Housing & Community Development
Lambdin Development Company
M&T Bank
Rifkin Weiner Livingston LLC
The Eberhardt Family
Willis Towers Watson
Waldron Strategies