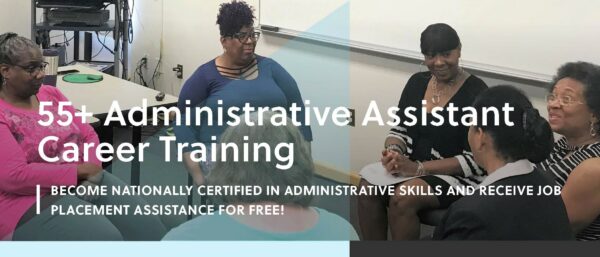 We are currently recruiting for our next FREE Administrative Career Training program, specifically designed for those 55-65 years of age! Training will provide advanced computer skills, professional administrative training, and will lead to a national certification as a Front Office Admin Assistant.
At completion, participants receive job placement assistance and the potential to work with one of the employer partners including Towson University and Johns Hopkins Health System, and many more.
Eligibility:
Must be a Baltimore City or Baltimore County resident and US citizen
Must be UNEMPLOYED at the time of enrollment
Must be at least 55-65 years of age
High school diploma/ GED; College degree preferred
Prior administrative support or clerical experience required
Basic computer skills required; Experience with Microsoft Word, Excel, Outlook
Ability to pass drug test and background check
Ability to pass written, reading and Microsoft Word skills assessment
This 12-week program begins on January 11th, 2021.
Dates: January 11th – March 29th
Time: Monday-Friday, 9am-3pm.
Location: The Baltimore County Career Center at Liberty
3637 Offutt Road
Randallstown, MD 21133
---
Join us for an information & assessment session at the Baltimore County Career Center at Liberty Center this October, November, or December!
Liberty Center: 10am-12pm & 1pm-3pm
October 15, 20, 22, 27, 30
November 2, 4, 6, 10, 12, 17, 19
December 1, 3, 8, 10, 17, 22, 29, 30
Questions? Contact Us!
PHONE: 410.381.7171
EMAIL: career-training@humanim.org
WATCH OUR VIDEO OVERVIEW BELOW