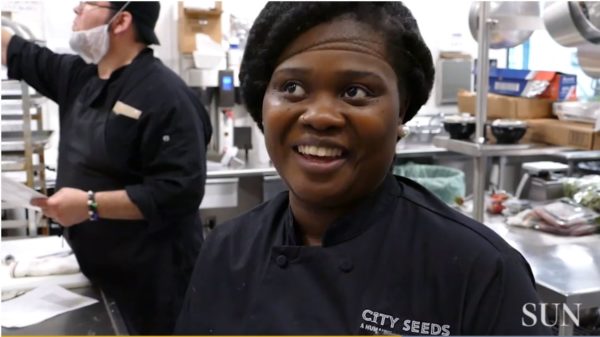 Our culinary social enterprises City Seeds and School of Food were recently featured on Dan Rodricks' podcast Roughly Speaking at The Baltimore Sun. After touring the facilities, including our brand new production and teaching kitchen, Rodricks was able to learn more about the work we've been up to at the Food Hub, including catering, food production, culinary classes, job + business training, and more.
Listen the podcast here.
Watch the video spotlight here.
"Time to see what's happening at the East Baltimore food hub, a redevelopment project that has been in the making for several years. Last fall, City Seeds became the hub's first tenant, moving into a shiny new building off North Wolfe Street. City Seeds is a commercial kitchen that provides catering and grab-and-go meals for some major institutions and businesses in Baltimore. Its core mission is to employ people who've faced challenges in their lives and train them for culinary careers. It's an impressive social enterprise of the Humanin non-profit. On today's show, we meet Deborah Haust, the Humanim vice-president who runs City Seeds as well as the other program in the new space, School of Food"