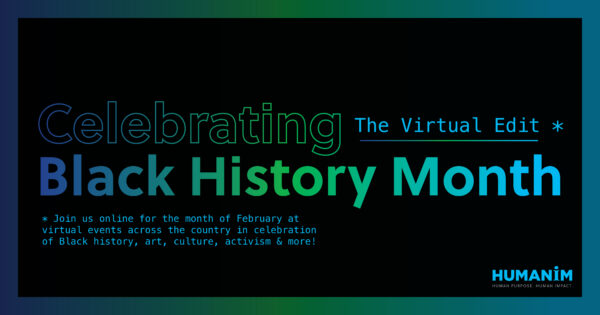 Join Humanim online for the month of February at virtual events across the country in celebration of Black history, art, culture, activism & more!
In recognition of Black History Month 2021, we've curated "Black History Month: The Virtual Edit" – a collection of virtual events open to the public.
View/download our interactive flyer to learn more & easily register for upcoming events, or use the links listed below.
2/18 | 4-5 pm
DreamBank at Spark

The Hit Parade: Music Focusing on Social Activism by African American Artists

2/23 | 2:00 pm
Enoch Pratt Free Library

Historically Speaking: The Economic Impact Of COVID-19 On The African American
Community

2/23 | 7-8 pm
National Museum of African American History and Culture

Diving with a Purpose: Recovering and Reexamining Our Roots

2/24 | 6:30 pm
Association for the Study of African American Life and History

Black History Month Virtual Concert: Preserving and Persevering

2/25 | 7:00 pm (CT)
Chicago Children's Choir

2/25 | 12:00 pm
Enoch Pratt Free Library

Making a Difference: African American Women of the Civil Rights Movement

2/26 | 2-4 pm
Enoch Pratt Free Library

Dr. Charlene Dukes on the Black Family and Education

2/28 | 12-2 pm
Association for the Study of African American Life and History

ONGOING EVENTS:

Photos from the Civil Rights Movement
High Museum of Art

The High Museum of Art holds one of the most significant collections of photographs of the Civil Rights Movement. The works in this exhibition are only a small selection of the collection, which includes more than 300 photographs that document the social protest movement, from Rosa Parks's arrest to the Freedom Rides to the tumultuous demonstrations of the late 1960s. The city of Atlanta—the birthplace of Dr. Martin Luther King, Jr.—was a hub of civil rights activism and it figures prominently in the collection.

Portraits of African Americans
National Portrait Gallery

The National Portrait Gallery's collection is home to more than 1,000 portraits of African American history-makers. From eighteenth-century poet Phillis Wheatley to former First Lady Michelle Obama, discover portraits of African Americans whose lives and achievements have contributed to the history and development of our nation.

"Chez Baldwin," Virtual Exhibit on James Baldwin
National Museum of African American History and Culture

An Exploration of James Baldwin's Life and Works Through the Powerful Lens of His House "Chez Baldwin" in St. Paul de Vence, France

Rosa Parks in Her Own Words
Virtual Exhibit at the Library of Congress

Rosa Parks: In Her Own Words showcases rarely seen materials that offer an intimate view of Rosa Parks and documents her life and activism—creating a rich opportunity for viewers to discover new dimensions to their understanding of this seminal figure.

Art by African Americans exhibition
Boston Museum of Fine Arts

The Museum of Fine Arts, Boston, has one of the most significant collections of works by African American artists in the nation, and many acquisitions were made possible by the MFA's Heritage Fund for a Diverse Collection. Click through for a chronological survey of the collection.

"Jacob Lawrence: The American Struggle"
Peabody Essex Museum

From 1954 through 1956, while the civil rights movement was unfolding right before him, the late artist Jacob Lawrence created a series of paintings called "Struggle: From the History of the American People."

CinemaLit: In Celebration of Black History Month, Black Lives on Film
6 pm (PST) | Fridays, Feb. 5-25. | Free-$10

Join a Zoom Salon to discuss the film of the week. The featured weekly films starting on Feb. 5 are:

* Lorraine Hansberry Sighted Eyes/Feeling Heart (117 min. 2017)

* Anita Speaking Truth to Power (77 min. 2013)

* Moonlight (111 min. 2016)

* Miss Juneteenth (100 min. 2020).

Register for each week's sessions at milibrary.org/events/cinemalit-film-series

Color Code Key:

History, Culture & Social Studies

Arts, Music, & Literature

Politics & Activism