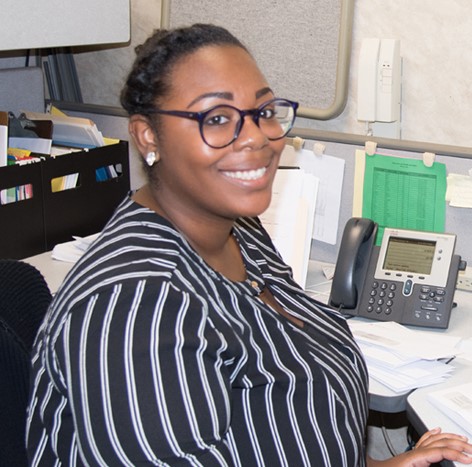 Humanim's Administrative Career Training program and graduate Shakiara Seals were recently highlighted by The University of Maryland, Baltimore in their press release "Working to Employ the Community." This program is funded by the Maryland Department of Labor and Licensing Regulation and Baltimore Integration Partnership.
The article talks about UMB's community hiring initiative and successful partnership with Humanim's career training and job placement programs.
From the article:
"Shakiara Seals got her job as an office clerk in UMB's Department of Environmental Health and Safety after taking the administrative assistant training course through Humanim. Seals, who had been working in retail and taking college courses in the summer, wanted an administrative job, but most required four to five years' experience, she said. Her mother told her about the 10-week Humanim course, which was just the push she needed. Seals graduated with a PACE certificate (Professional Administrative Certificate of Excellence) and the connections that landed her a part-time job at Towson University and, eventually, the full-time job at UMB. She credits Humanim for getting her where she is today, not quite a full year later."
Read the full article here.
We are proud of Shakiara and her training & support team at Humanim!