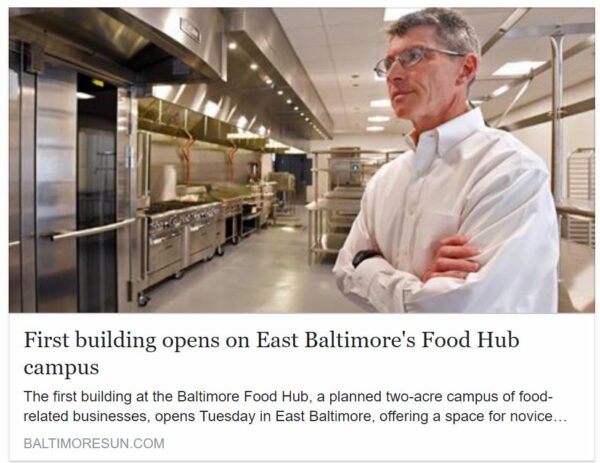 Our social enterprise City Seeds is moving to the Baltimore Food Hub campus! Read how they will be supporting the Food Hub's job creation and food business training goals in East Baltimore in this week's Baltimore Sun. From the article:
Known as the Baltimore Food Enterprise Center, the one-story silver building at 1731 Llewelyn Ave. will be home to two programs designed to grow the workforce for Baltimore's burgeoning food industry. Over the next few months, the nonprofit Humanim will move its City Seeds and School of Food operations into the teaching kitchen, commercial kitchen and office space at the 7,500-square-foot center, which will serve as an anchor for the $25 million Food Hub campus in Broadway East as its remaining five buildings are renovated and restored….

Two large kitchens outfitted with stainless steel equipment are the center's main features. One will be used as production space for Humanim's City Seeds program, which provides culinary job training to people with barriers to employment. City Seeds workers operate catering services, prepare wholesale foods and staff in-house cafes for a number of Baltimore hospitals, universities and foundations. With more space at the Food Enterprise Center, the group could more than double its workforce of 21 by the end of next year, according to Cindy Plavier-Truitt, senior vice president and chief business officer at Humanim.

"It's hard to produce that [much] out of our little kitchen," she said of the program's current rental space in Hampden. "We are really actively trying to expand on our catering side, which we've seen expand over the past six months, and that's something that we're really pushing hard."

That would mean more jobs for people like Sheba Brown, 42, who worked with City Seeds for about a year before getting hired as a lead cafe assistant at the Walters Art Museum.

Brown, who said she was previously unemployed due to a health issue, credits her supervisor at City Seeds for encouraging her to thrive.

"She looks at somebody and says, 'You know what? You can do more than what you can do you now.' I have never had an employer who has done that," Brown said. "There are not a lot of employers out there that say, 'This chick or this guy has potential.' And we need more of that."

In five years, City Seeds could create as many as 150 jobs through the Food Enterprise Center, Plavier-Truitt said.

Humanim will also expand the School of Food, its business development program for food entrepreneurs, with the center's teaching kitchen. The program will soon be able to offer cooking classes along with lessons on crafting a mission statement and social media marketing.

Plans are in the works for public cooking classes as well.
Read the full article here.