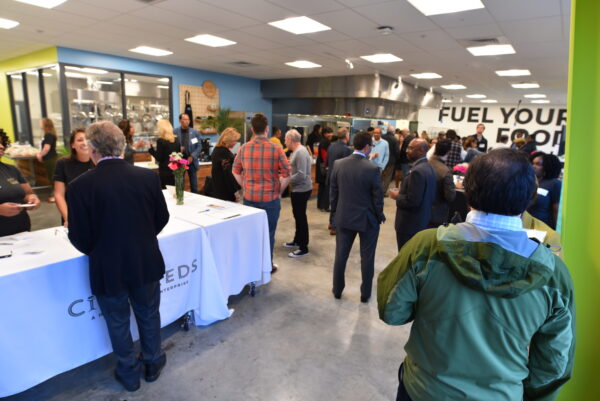 Our culinary social enterprises City Seeds and School of Food are officially open at their new home at the Baltimore Food Hub! You can view scenes from last month's grand opening here.
About City Seeds: City Seeds is committed to providing quality food and good jobs, while growing Baltimore's local food economy. They do this by sourcing local, training and hiring individuals with barriers to employment, and supporting local food entrepreneurs in partnership with School of Food. City Seeds' catering and wholesale food production magic now takes place at its brand new production kitchen at the Food Hub, where they also offer in-house event catering and event space rental services.
About School of Food: School of Food offers interactive and educational programming for cooking enthusiasts, food entrepreneurs, and everyone in between. Their programming includes business training for local and low-income food & beverage entrepreneurs, as well as corporate team building and public culinary classes. School of Food is committed to growing Baltimore's local food economy through training, job creation and food business technical assistance. Read their latest impact report here.
About the Baltimore Food Hub: The Baltimore Food Enterprise Center is the first facility in the development of the Baltimore Food Hub & new home to our social enterprises City Seeds and School of Food. City Seeds + SOF will provide the business training and educational programming for the new facility. The Baltimore Food Hub is a $4M project created to provide workforce development and employment opportunities for the local east Baltimore community and beyond. We are proud to partner with the Historic East Baltimore Community Action Coalition, Maryland Department of Housing and Community Development, The City of Baltimore Development Corporation – BDC, American Communities Trust, & community leaders to bring this important project to the East Baltimore community.