City Seeds is passionate about food + driven to transform lives. As a Humanim Social Enterprise, they offer culinary and hospitality skills training for individuals with barriers to employment. Here are some of their stories of impact.
---
Meet David!
David interned with City Seeds through Humanim's Start on Success program in the summer of 2019. City Seeds' Director of Operations says that David was quiet when he first started, but in the kitchen, he blossomed – taking initiative to lead other interns, making lunch for the entire staff, and even coming in on his day off to be in the space where he felt safe. Outside of the internship, David had been struggling to find stability. After losing both of his parents at the age of 7, David was adopted into a family, but faced many challenges, including spending several years in a group home.
At the start of the SOS internship, Humanim's Workforce Development team had placed David at another initial job site. In search of a more conscientious employer to accommodate for additional supports in the workplace, he was placed at City Seeds. Upon completion of the internship, City Seeds accepted David back into a part-time position, hiring him as a Prep Cook and adapting the usual preparation work hours to accommodate David's class schedule. "City Seeds offers help – when you ask, they can teach you a lot, which can go a long way. If I say I need help with finding a recipe, they'll show me and help me out. [City Seeds] made me aim to work harder at what I do, even if sometimes I fall behind, I try to do things right. It made me a harder worker."
Recognizing what an amazing opportunity David had found, he asked City Seeds' leadership to consider hiring a friend of his, John, who he had previously lived with in a group home. From the interview, John immediately found his place in City Seeds as a Porter. John enjoys working at City Seeds because of the calm, respectful work environment. After starting only one month ago, John says, "we're a family; we look out for each other."
---
Meet Lee!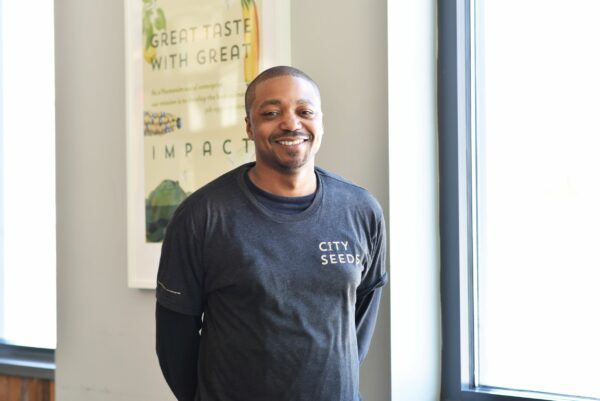 Lee started at City Seeds in November of 2016 as a Driver. A loving father of six children, Lee found out about City Seeds through Humanim's Workforce Solutions program, which assists Temporary Cash Assistance (TCA) recipients with finding employment. After being in and out of prison for several years, Lee had found it difficult to find consistent employment that would support his family.
Lee was a key member in the beginnings of the City Seeds team! He helped form operating procedures that are now standards for the company, including reviewing the order with the client upon delivery and making sure everyone is satisfied before getting back on the road. Since helping launch City Seeds' catering services almost three years ago, Lee's role has expanded to Service Delivery Driver, increasing his responsibilities to include elaborate setups for full service events, such as cocktail parties and plated dinners. He has also grown to become City Seeds' go-to trainer for newly hired team members, showing them the ropes and making them feel like part of the team immediately upon their start.
Lee truly enjoys his job at City Seeds, and the connections he has made through his work. "My life changed in many ways. For one, I got a stable job that allows me to support my family. For two, I get to meet a lot of interesting people — literally, every day. Which can lead to other connections that help you personally or on the job. I'm not stuck in one thing all the time. It's an adventure."
---
Meet Tyshira!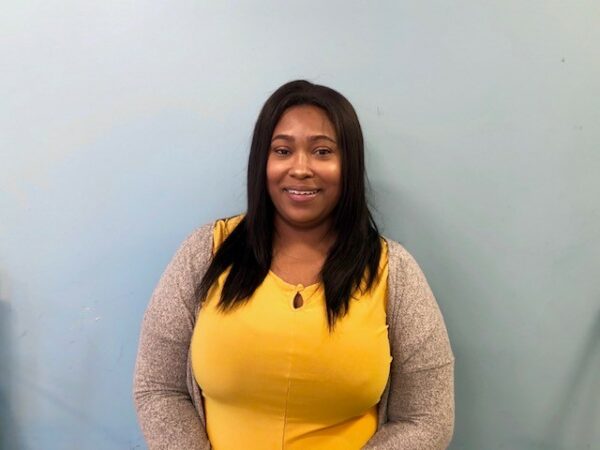 Unemployed at the time, Tyshira ("Shira") signed up to participate in Humanim's administrative career training program in 2016. With the support of her career training team, Shira was hired by Humanim's social enterprise Details Deconstruction upon graduation as their Administrative Coordinator, starting at $11.46/hour with full benefits. During her first year at Details, Shira adeptly put her training into practice, proving to be an essential team member who consistently went above and beyond expectations. The team's morale became a high priority for her as well; Shira regularly brought snacks for crew members to enjoy after a long day at the construction site, cheerfully noting that a popsicle was an easy way to put a smile on someone's face.
When City Seeds needed an administrator with accounting capabilities, Shira rose to the challenge and made a move. At her new position, she thrived on learning new skills — from graphic design to event execution — and always with a smile. Her work ethic and ability to quickly master new responsibilities not only elevated her to the role of Catering & Events Coordinator, where she was earning $15/hr — it opened up new opportunities. Shira was recently hired as Administrative Coordinator at Johns Hopkins University Krieger School of Arts, where she is earning almost twice as much as she was when she first started, with increased benefits including free and reduced education reimbursement, which she plans to take full advantage of.
When asked what advice she would give to others who want to follow her path, Shira said, "I encourage anyone to take advantage of the opportunities offered by Humanim. My mindset 10 years ago would have been to not stay in that class, but I changed my mindset and got my head in the game. I wanted to gain the skills and was willing to take on any task and gain the experience. When Johns Hopkins saw my resume, they saw that I have so many transferable skills. I can do it, I'm here. I like the challenge."