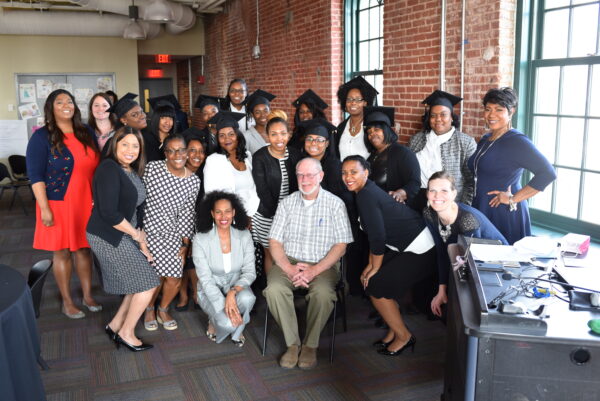 Congratulations to our April 2018 cohort of Administrative Training graduates!
Our April 2018 graduating class of Administrative Assistants consisted of 12 women who showed tenacity, perseverance, and heart. They came into our training with an expectation of getting a certificate, even though several had advanced degrees. However, they left with so much more—the Microsoft Specialist Office Specialist certification and the Professional Administrative Certificate of Excellence. We had students who faced many challenges while attending the training. One struggled with homelessness, yet she completed the training with perfect attendance. Another worked through mental and emotional abuse, and still maintained a smile every day she attended class. Our Case Manager was very instrumental in setting them up for success. This training came with a lot of sweat and tears. We tore down generational barriers and replaced them with trust and confidence.
Humanim's Administrative career training program is offered in partnership with CCBC, Baltimore Integration Partnership, UMB, UMMC, Towson, Morgan, Notre Dame, University of Maryland Faculty Physicians, JHHS, JHU and Mercy Hospital.
Humanim created the Administrative Assistant Training Program as a pilot in 2016, in partnership with ten of the participating anchor institutions in the Baltimore Integration Partnership (BIP) and with funding from the Mayor's Office of Employment Development and BIP. The 9 week program prepares Baltimore City residents for employment in administrative positions. Human Resources representatives of the anchor institutions participate on a steering committee helping to design the curriculum and facilitate job shadowing, mock interviews, and job development support. Participants are provided soft skills and professional development training, and graduates receive two nationally-recognized certifications – Microsoft Specialist Office Specialist certification and the Professional Administrative Certificate of Excellence. At completion, participants are placed into entry-level administrative positions at partnering anchor institutions.
Twelve of the BIP anchor institutions are now participating in the program, and the anchors have committed to consider graduates of the training program to fill administrative vacancies at their institutions. Currently the EARN grant has funded 2 cohorts, with the most recent cohort completing April 2018. From the first cohort, which completed in October 2017, a 100% placement rate was accomplished 1 month after graduation due to several of the anchor institutions, including Notre Dame of Maryland, Johns Hopkins, Morgan State University, Towson University, and University of Maryland, Baltimore, who have hired graduates from the training program. Humanim's Administrative Assistant training program will begin recruitment for a new cohort of 15 trainees starting July 1, 2018.
Our anchor partners have been instrumental in providing support to our trainees by way of participating in mock interviews, informational sessions at their institutions and assisting our trainees with meeting decision makers who ultimately help us obtain placements. We thank you.
View photos from last week's graduating ceremony here.