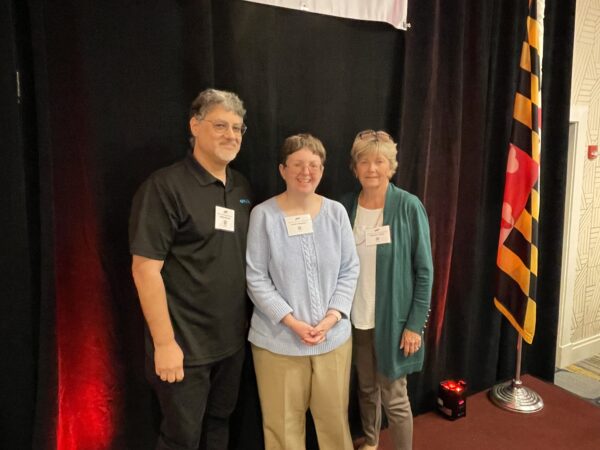 We're proud to announce that Cristin, a participant in Humanim's employment services, has been named "Employee of the Year" by Maryland Works!
Cristin has been receiving Humanim services for over 10 years and currently works full-time for Pandora. She was initially hired on a part-time temporary basis last year after she was laid off from her long-time position at Lancaster Produce, due to a change in company ownership. It was not long before Pandora promoted Cristin to full-time, as they quickly recognized just how hard working and capable she was. Cristin is known for her positive attitude, her resilience, and history of remarkable attendance on the job.
Prior to Pandora, and over the course of the last decade, Humanim has watched Cristin take on positions and excel, only to be let go for reasons beyond her control—with various places of employment closing and changing ownership. These positions include an over 20-year tenure at Chase Bank where she served as an administrative assistant but was laid off when the bank was bought out; a 2-year position with Academy Linens, where she worked in the laundry room until the business was bought by another business and relocated out of state; and a 2-year position with Lancaster Produce, as a produce packer, until the business closed due to bankruptcy.
While some people might grow discouraged and lose hope by being laid off from multiple positions, these experiences have only made Cristin more determined and hardworking. With each disappointing occurrence of job loss, Cristin would immediately contact her longtime Humanim job coach, Maureen, and let her know that she was ready to find a job. Maureen recalled Cristin showing up in her office last year, after the closing of the Lancaster Produce warehouse, and exclaiming: "I don't care what type of job it is, I am open to doing anything! I just want to work!
Cristin demonstrated her resilience and ability to grow and adapt as an employee through her experience at Academy Linen. Once on the job, Cristin quickly picked up the tasks but had difficulty interacting with her coworkers, who spoke Spanish and knew very little English. When Cristin's job coach Maureen arrived at the workplace, not long after Cristin's start, she was amazed to hear from her manager that Cristin had shown up at the job greeting her co-workers in Spanish.
Despite her language delays, Cristin had begun to teach herself Spanish online so that she could engage with her co-workers – a practice she kept up and excelled at. Her co-workers were so impressed with this that they in turn began to learn English phrases. Cristin's initiative led to a more comfortable and integrative experience for her—as well as her co-workers!
Cristin's determination and ability to maintain a positive outlook is what makes her an outstanding employee. She exemplifies how individuals can work to overcome barriers and lead more independent lives.