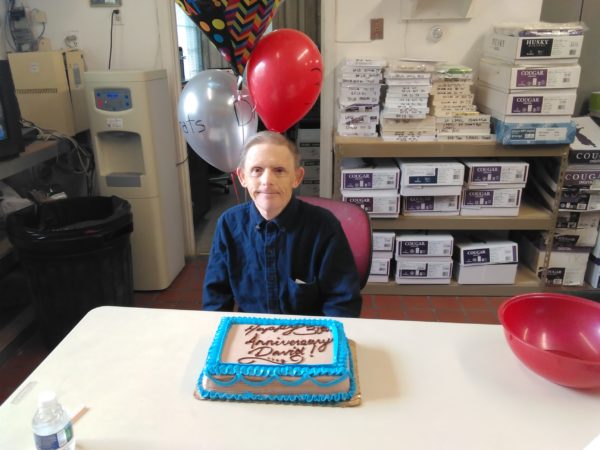 Humanim client David Hodges celebrated his 30 year anniversary at The Outer Office this month, where he started working in 1988 as a clerk. David's primary duties when hired included operating the shrink wrap machine, hole punch machine, stuffing envelopes and collating mailings.
Over the years The Outer Office has grown with David, modifying his job duties to meet his needs and ensuring his success at work. Their continued employee-employer relationship has yielded rewards beyond the workplace. David's employment has afforded him independence and personal growth, while providing him greater access to community and social ties. His anniversary with The Outer Office is testament to the impact and success of inclusive employment.
Due to The Outer Office's commitment to inclusive hiring practices, accommodation practices,  and values regarding diversity and providing employment opportunities for employees with disabilities – they were awarded the Employer Award by the Howard County Commission on Disability Issues in 2017.
Congratulations to David on his work anniversary, and a huge thank you to The Outer Office for 30 years of support!