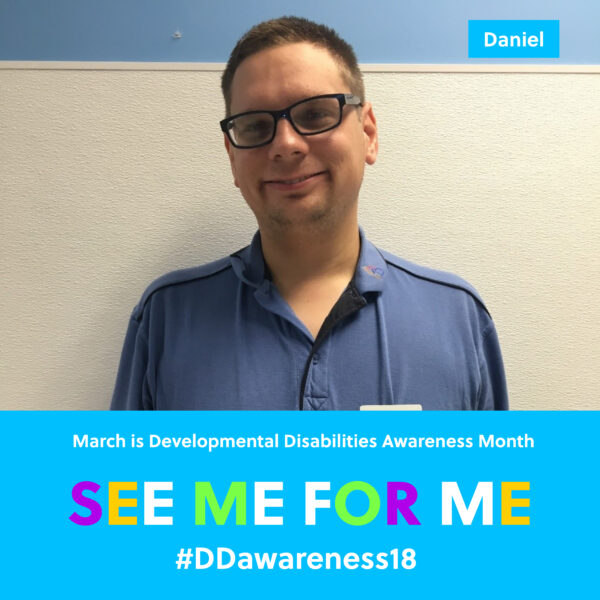 March is Developmental Disabilities Month. This year's theme is "See Me for Me." To recognize this important awareness initiative, we'll be sharing stories of our clients and how inclusive employment has helped change their lives as well as their communities!
Meet Daniel! Daniel has been a treasured Customer Service Representative at Harris Teeter since 2014. He enjoys working there and helping customers with any issues that come up. Daniel recently received a letter from the President of Harris Teeter, Rod Antolock, congratulating and appreciating his work and informing him that one of Daniel's customers wrote to the President of the company praising Daniel's excellent work. Harris Teeter is proud to have Daniel as an employee and he is loved by everyone at work.  Daniel also has a driving license which is commendable. In addition, Daniel recently started living independently through the Arc of Howard County and is very diligent with the responsibilities that come with living alone. Humanim is proud of Daniel and happy to see the success he has achieved over the past few years.
To view all our stories, follow us on Facebook and Instagram.
You can share your own stories of individuals with a disability to show that a successful life is possible by using hashtag #DDAwareness18!
From the National Association of Councils on Developmental Disabilities:
In 1987, President Ronald Reagan made a public proclamation that the month of March should be recognized as Developmental Disabilities Awareness Month to "increase public awareness of the needs and potential of Americans with developmental disabilities. Though our mission remains largely the same, so much has changed since 1987. While we still aim to increase public awareness, our focus has shifted to the importance of inclusion and living life side by side. During this month, we want people to share their stories, photos, and resources far and wide to expand the conversation of inclusion and accessibility. This year's theme is "See Me for Me!" To us, this means looking beyond someone's disability and seeing them as a person and not just a person with a disability.