March is Developmental Disabilities Awareness Month! Humanim's programs provide support and services for individuals with developmental disabilities. Our person-centered approach emphasizes individualized care, community integration and customized employment, with the goal of empowering individuals to achieve both personal and economic independence.
In recognition of #DDAwareness2020, meet a few of the individuals empowered by Humanim:
---
Meet Donte!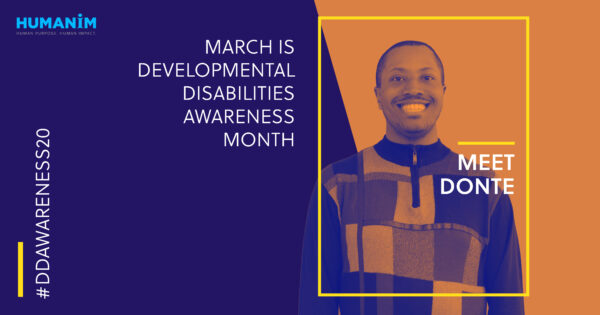 A day program client in Humanim's Developmental Disability Services, Donte entered into Humanim's employment services after expressing an interest in finding a job. During his initial career exploration and discovery process which took place through a home visit, Donte's employment consultant and job coach, Emily, noticed how neat and clean his house was and after speaking with him about this, saw an opportunity to place him with Standard Energy Solutions, a local solar solutions company and employer partner of Humanim.
Donte initially started at Standard Energy through a working trial as a porter (cleaner); he had never been employed before. Some of his barriers to employment included comprehension of information and communication. From the start, Donte was good at completing his tasks and it was obvious that his home cleaning skills translated well to his new role. In the beginning, Donte worked with his job coach to learn strategies for remembering all the steps to his tasks and staying on track. Since then Donte has progressed so well in his work that he needs very minimal job coaching.
Donte's employers describe him as pleasant, respectful, and rarely distracted from his work. "Donte is right on it, we love having him around here. He's done a great job and is amazingly respectful to other team members," said Bobby Young, CFO of Standard Energy Solutions.
Donte really enjoys his new job, and his favorite tasks at work are staying ahead of the company's trash disposal needs by regularly emptying the trash, as well as vacuuming, an expert skill he brought from home. He says employment has allowed him to do something extracurricular in his life, make some money, and enjoy increased independence. "It's good so far," he says. "I'm learning a lot."
---
Meet Defu!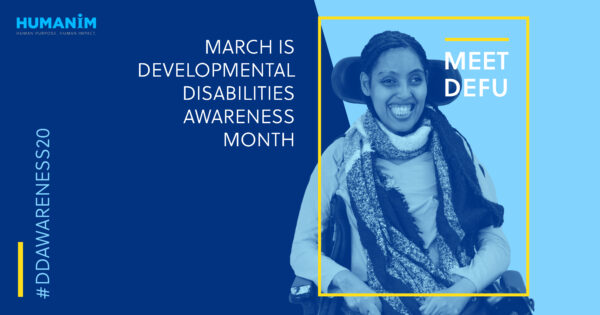 Defu was first introduced to Humanim's day program in 2009, after being referred by the Howard County Public School System. Defu's sunny disposition and great social skills quickly endeared her to her program peers and staff.
In 2014, Defu began participating in Athletes Serving Athletes after they visited Humanim to recruit participants. ASA, an organization started in Baltimore to empower individuals with limited mobility to train for and participate in mainstream running events, quickly became a passion for Defu. She went on to compete in the Iron Girl competition for the next 3 years, and became a 2 time Baltimore Marathon runner, as well as ASA's very first female triathlete.
"It helped me with my confidence and talking to people more. I'm more outgoing now than I was before," Defu says of her ASA experience.
After becoming a decorated ASA athlete, Defu decided she wanted to pursue employment, and entered Humanim's employment services in 2018. Due to her limited physical abilities, she found it difficult to find employment that fit her skill sets. After a year of job searching, some of Defu's staff got together to brainstorm the best action plan for finding employment, and decided to reach out to places with whom Defu already had a strong relationship. ASA was a natural place to start, and soon after approaching the organization, they brought Defu on to become their paid spokesperson – a perfect fit for her determination, outgoing personality and ability to motivate others. As ASA's spokeswoman, Defu speaks with potential sponsors and donors, as well as at ASA events to share her experiences and recruit volunteers.
Defu says the opportunity with ASA has been an incredible experience so far, a natural extension of her passion for ASA, and has helped build her confidence as well. She is grateful to her staff at Humanim for their continued support, and for helping her find a job that she enjoys so much.
"I think [Humanim] knows I love them. This is the longest program I've ever been in because they make you feel like family. They treat us like human beings. Without Humanim I don't know where I would be. They have my back."
---
Meet April!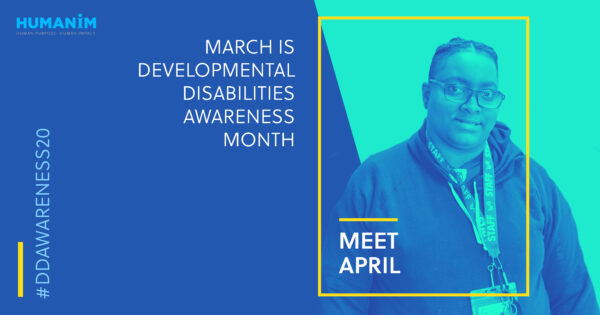 April has been a part of Humanim's Developmental Disability Day Program for nearly 8 years after being referred to our programs through Maryland's Developmental Disabilities Administration (DDA). After expressing interest in employment in August 2019, she began her employment journey with Humanim's Job Development program. Part of this process included being paired with an Employment Consultant, Randy, who helped her develop her career skills and guide the job search.
While April was quiet at times and faced behavioral challenges, her enthusiasm for work helped her shine in mock interviews. At first, she was nervous when interviewing with potential employers, but after talking with her Employment Consultant, she was able to work through her doubt and finish her interviews. April's determination paid off, and she was offered part-time employment as a custodian with the Baltimore City Enoch Pratt Library. Upon receiving the job offer, she was so excited that she couldn't wait to share the news with everyone.
April recently completed her first month of employment at the library, where she works to keep a clean and tidy space for the community. Her enthusiasm for employment paired with her strong advocating skills, have helped make her employment journey a success. Since working with Humanim's job development program and obtaining employment, she has been able to overcome many of her challenges, while gaining more self-confidence.  April says she "enjoys her coworkers and feels independent," and enjoys having more financial freedom.
---
Meet Leonard!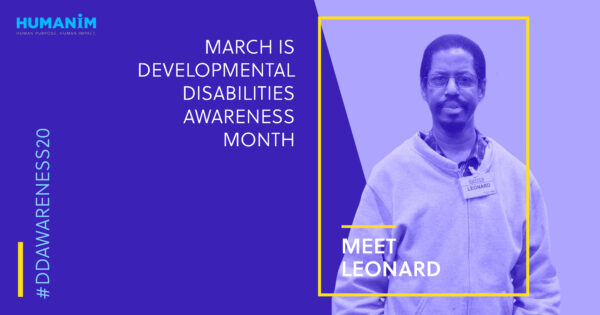 Leonard has been a part of Humanim's programs since 1987. Since joining Humanim's employment program many years ago, Leonard developed his workplace and customer service skills, and has obtained three positions with different employers with the help of his employment consultant. At each of his workplaces, Leonard was described as a dependable and hardworking employee.
In 1992, after his previous employers closed their businesses, Leonard began part-time work at Club Distribution – a division of Costco. During his first year, Leonard worked in the distribution center of the maintenance department, where he performed janitorial duties.
It wasn't long before Leonard's commitment and hard work was recognized. He proved to be such a valuable employee that he was offered full-time employment as well as training in the "soft lines" department. When the distribution center relocated, Leonard was kept on board and transferred to the Beltsville store as a front end assistant. In 2007, he moved to the Columbia store, where he has maintained employment ever since on the retail side. Next month, Leonard will be celebrating his 28th anniversary of employment at Costco!
Leonard remains a valued member of the Costco team – he reports to work as scheduled, provides excellent customer service loading carts, and works well with Costco employees on all levels. Working in a full-time capacity has allowed Leonard to live independently in his apartment with minimal assistance. Leonard has expressed that he is grateful for Humanim's assistance with his employment over the years, and the independence and opportunities it has afforded him.
---
Meet Akeem!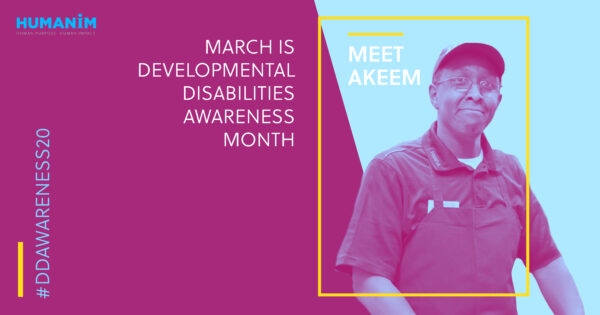 Akeem has been a part of Humanim's Developmental Disability Day Program for almost 14 years after being referred to our programs through Maryland's Developmental Disability Administration (DDA). Akeem is regarded as a good listener to others and is well-liked by his peers. He enjoys helping his peers better their reading and writing skills in the day program. Akeem sometimes struggles with speech difficulties, but it is a challenge that he works hard daily to improve.
A long time participant of Humanim's day program, Akeem wanted to learn new skills and entered into the program's vocational skills training.  After developing his employment and work readiness skills, he expressed interest in employment and worked with his Employment Consultant to find a good fit. His dedication and strong self-advocacy skills recently paid off. After interviewing for a part-time position as a Food Services Worker at Towson University, Akeem was hired on the spot!
Akeem has been employed at Towson University for 6 months, where he works to help prepare and cook menu items, and enjoys the independence that employment has given him. When asked about his involvement in Humanim's programs, Akeem expressed that if it wasn't for the skills that he learned at the Baltimore Day Program, and the encouragement he received from Humanim staff and his Employment Consultant, that he wouldn't be where he is today. He shared that he is "grateful for this opportunity."
---
Read more about Humanim's Developmental Disability Services: