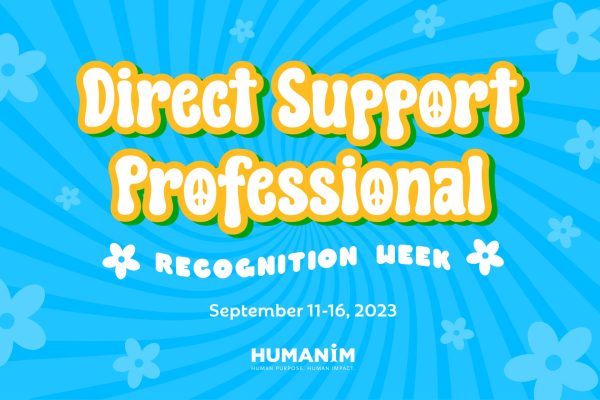 In honor of Direct Support Professional (DSP) Recognition Week, we shared stories from some of our amazing front-line staff. We also celebrated DSPs with a spirit week that included a catered lunch, special gifts, personalized notes of appreciation and a cookout as a way to say thank you for the tremendous impact they make every day.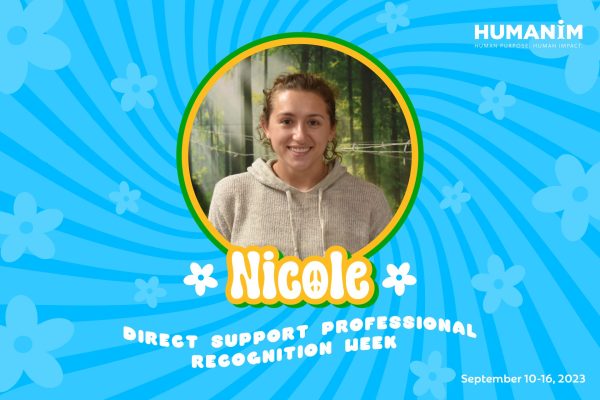 "The best part of being a DSP is seeing the individuals be proud of themselves for accomplishing something new that was challenging," Nicole said. "They get so excited and are ready to tackle other challenges afterward."
Nicole has been working in the Meaningful Day Program for almost one year. Since assuming the role, she has learned the importance of making sure that everyone in her group has a voice. Over time they have become more comfortable expressing their wants and needs. She has been instrumental in helping participants become more social and independent as they work towards personal goals.
"Nicole consistently exhibits remarkable dedication and compassion in her capacity as a DSP," said Mike, Director of Meaningful Day Services. "She surpasses expectations by providing unwavering support to individuals with disabilities, ensuring they can lead fulfilling lives and promoting inclusivity in their environment."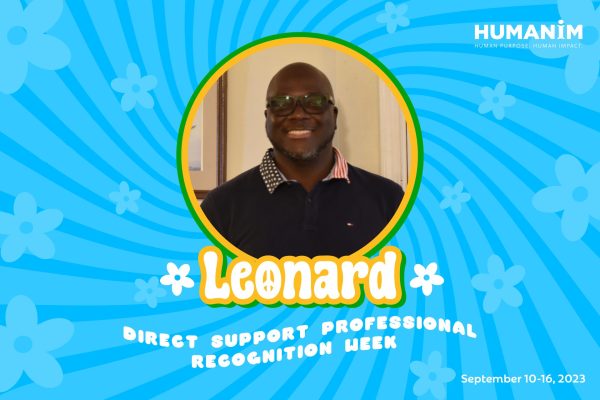 Leonard is a Direct Support Professional (DSP) who has been working in our Behavioral Health department for 11 years!
Leonard has a passion for helping people with mental health challenges. He works with program participants in their homes to help them live independently. Leonard supports individuals in completing daily living activities, provides strategies to increase their coping skills, teaches financial literacy, and guides them in interacting with their community.
"It gives me joy when I see individuals walk up to me and say 'Hey Mr. Leonard, I'm moving into independent living,'" Leonard said. "I'm so happy about that because when you support them, it gives them hope that they can move to the next stage and level of their lives."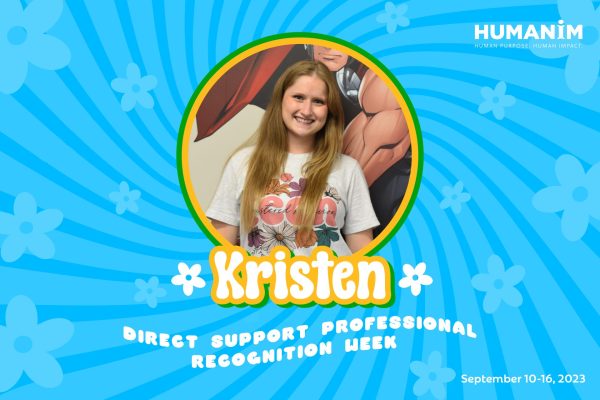 Kristen is a Lead Registered Behavior Technician (Lead RBT) in the early intervention program at our Infinity Center for Behavior Services in Carroll County, where she has worked for over one year.
"Kristen is positive, dedicated to the program, kindhearted, and amazing with the kids," said Kristen Colyer, Director of Children's Services. "She is always willing to go above and beyond."
Kristen enjoys helping children reach their full potential. "There are so many incredible milestones I've been able to witness," Kristen said. "One that stands out is when a child I had been working with saw his dad in the pickup line and yelled 'dada' for the first time ever. It is the most amazing feeling to see our learners and their families beaming with pride knowing how hard they have worked."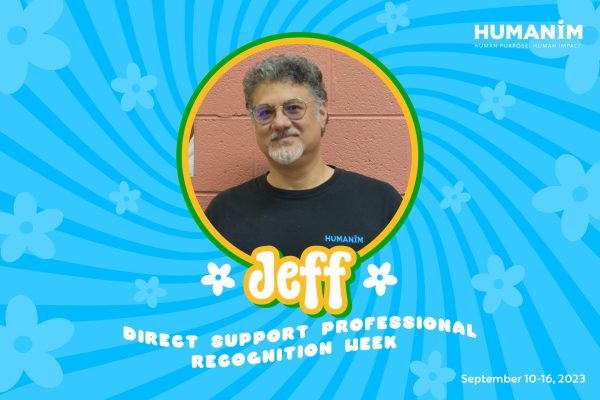 Jeff is a Direct Support Professional (DSP) who has been working as a Job Coach at Humanim for four years. Before then, he was a DSP in our Meaningful Day program for six years. In 2021, Jeff was selected as a winner of DSP Recognition by the Maryland Department of Disabilities and Maryland Developmental Disabilities Administration.
Jeff strongly believes that employment helps connect individuals with their communities. As a result, the individuals he serves have become more independent and confident within themselves. They feel a greater sense of belonging and are more socially active.
"Jeff's work performance is outstanding," said Mike, Director of Meaningful Day Services. "He always shows respect to his coworkers, individuals, and their families and listens to their thoughts and concerns when working on the individual's goals. He is a dedicated coach, providing methods and strategies for success in the workplace."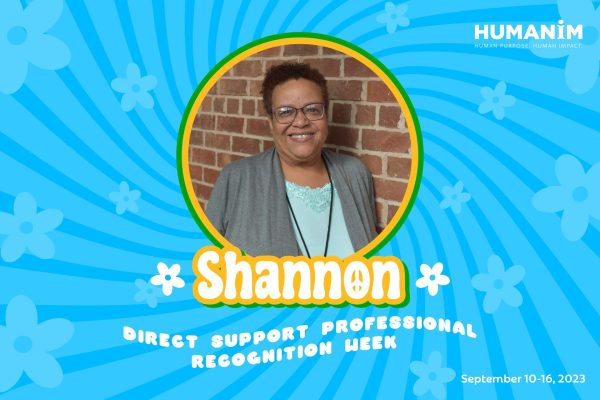 Since joining Humanim six months ago, DSP Shannon has introduced horticulture, foreign languages, and crafts to individuals in our Meaningful Day Program. Her group is currently growing plants on the patio of our Baltimore HQ, as well as learning Spanish greetings, numbers, and songs.
"Shannon has opened a new world of adventure for the program participants that she works with each day," said Andrea, our Baltimore Day Program Manager.
Shannon uses her own versions of games, such as Hangman and Family Feud, to teach word identification and money management in a fun, social way.
"I love being able to bring out the best in each individual and watch them thrive," Shannon said. "Their looks of accomplishment mean the world to me."
Check out photos from our 70s-themed DSP Appreciation Cookout last Saturday!