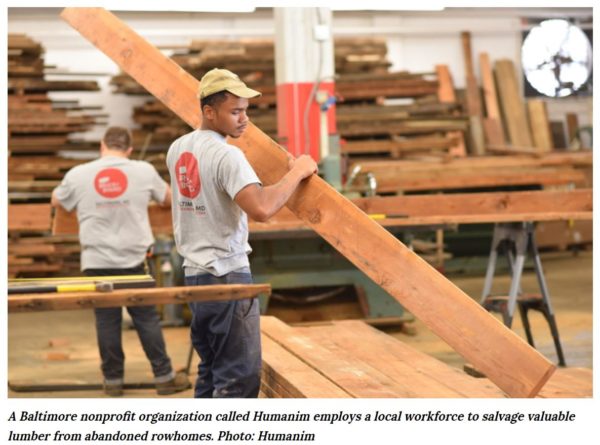 Creating sustainable social change in Baltimore through partnerships. Thanks to the U.S. Forest Service and many other partners, the urban wood economy is taking root in Baltimore – restoring green spaces, jobs, and healthier neighborhoods.
"While salvage is far from a new idea, it's catching on in some U.S. cities. Consider Baltimore, a city that has seen its population decline by more than a third since the 1950s – an out-migration that left thousands of vacant houses."
From the article:
"Now, through a four-year initiative called Project C.O.R.E.(Creating Opportunities for Renewal and Enterprise), Maryland is spending millions of dollars to demolish 4,000 buildings…through a partnership called the Baltimore Wood Project. Through this partnership, lumber from 1,000 Baltimore rowhomes is being salvaged and repurposed in a way that gives the wood a third life to follow its first two lives: as trees and as construction material.
While salvage is more expensive and slower than demolishing homes with backhoes and excavators, it tends to be more environmentally friendly, and it creates jobs. This is where an organization called Humanim comes in. This Maryland-based nonprofit organization employs a local workforce largely made up of people with barriers to employment, such as felony convictions, past addiction or lack of a high school diploma.
In putting these people to work, Humanim trains and equips them with skills that can be used in other jobs. In many cases, they work in struggling neighborhoods where unemployment rates are near 30 percent.
According to Jeff Carroll, director of Humanim's Details Deconstruction division: "The work itself has really strong environmental and social impact. If you can do it [while] making it an employment vehicle for people who've got some challenges getting back into the workplace – now, not only do you have a socially impactful service or product, but you're doing it in a socially impactful way."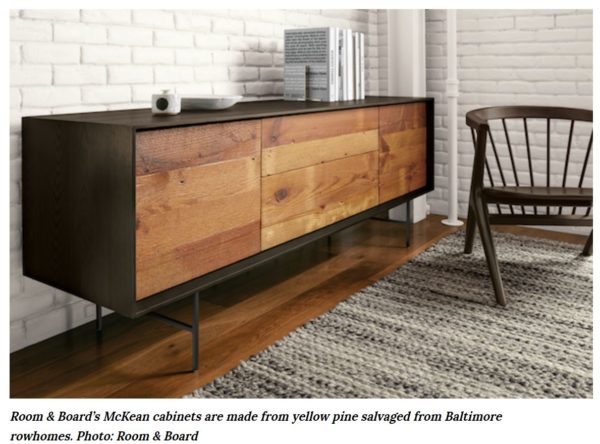 Read the full article here.