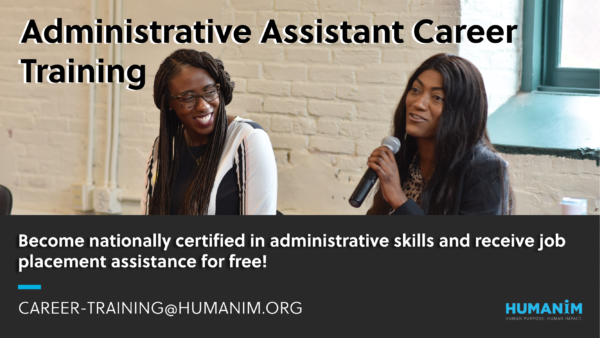 Interested in an administrative career? Increase your value to potential employers and start earning more than minimum wage by attending Humanim's Administrative Assistant Career Training program. Receive specialized training, professional certification, and job placement assistance.
This FREE 9 week program is specifically designed to prepare Baltimore City residents, ages 18-35, for employment in administrative positions. Participants are trained in office skills, such as Microsoft Office Suite, and go through an extended training program to receive nationally recognized certifications: Microsoft Office Specialist and the Professional Administrative Certificate of Excellence. At completion, participants have the opportunity to be placed into entry-level administrative positions at partnering anchor institutions.
The upcoming program begins April 19th 2021.
DATES: April 19th – June 18th 2021
TIME: Monday – Friday, 9am–3pm
LOCATION: 1701 N Gay St., Baltimore, MD 21213
Questions? Contact Us!
PHONE: 410.381.7171
EMAIL: career-training@humanim.org
Join us for an information/assessment session!
FEB 1, 3, 5, 8, 10, 12, 15, 17, 19, 22, 24, 26
MARCH 1, 3, 5, 8, 10, 12, 15, 17, 19, 22, 24, 26, 29, 31
APRIL 2, 5, 7, 9