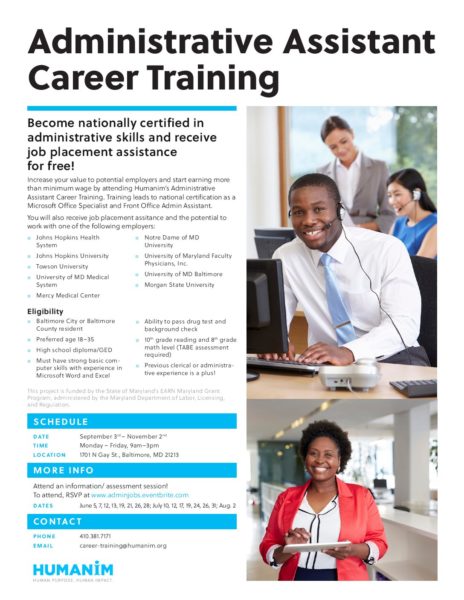 Interested in an administrative career? We are currently recruiting for our next FREE Administrative Assistant Training program! Receive specialized training, professional certification, and job placement assistance.
This 9 week program prepares Baltimore City and County residents, ages 18-35 preferred for employment in administrative positions. Participants are trained in office skills, such as Microsoft Office Suite, and go through an extended training program to receive nationally recognized certifications: Microsoft Office Specialist and the Professional Administrative Certificate of Excellence. At completion, participants have the opportunity to be placed into entry-level administrative positions at partnering anchor institutions.
Join us for an information session during June or July! Our next program begins September 3, 2018.
Information session dates are:
June 2018: 5th, 7th, 12th, 13th, 19th, 21st, 26th, 28th
July 2018: 10th, 12th, 17th, 19th, 24th, 26th, 31st
August 2018: 2nd
RSVP to an information/assessment session here: www.adminjobs.eventbrite.com
Or email us at career-training@humanim.org