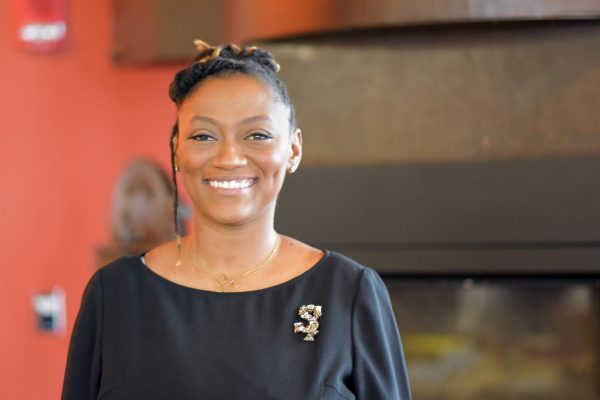 It was during Humanim's Award-Winning Administrative Assistant Career Training that Tonia's journey to becoming a White House Executive Assistant began. Tonia attended the information session determined to take on the knowledge the training had in store for her. She didn't know at the time just how integral this knowledge would become as she built the career of her dreams. She established a meaningful relationship with Wini Alexander, Training Manager of our Workforce Development Team. Wini recognized the skills within her and encouraged her to reach to her highest potential, rather than settle for less.
Tonia made important connections with Humanim's employer partners during the "Eds Versus Meds" panel and networking session with educational and medical institutions. This experience allows students to ask questions, get feedback, and determine what kind of employer would suit their professional needs best.
Tonia connected with the Employment Manager at Towson University, [1] who led her to her first opportunity after graduation as an administrative assistant for the Chairperson at the Department of Health and Sciences. [2] This is where she transferred 30 years' worth of hardcopy syllabi to digital paperwork. Then, she landed a position in the President's Office at Towson University.[3] In 2018, Tonia made her next career move to support the Associate Vice President of HR at Johns Hopkins University. [4]
Through the power of networking, she found and secured her current role as an Executive Assistant for a Biden Presidential Appointee, Dr. Elizabeth Fowler, in April 2021. Tonia works at the Centers for Medicare and Medicaid Innovation, where Dr. Fowler is the Director and Deputy Administrator. Under the Obama Administration, Dr. Fowler assisted in creating the Affordable Care Act.
Tonia works with Capitol Hill, senators' offices, and healthcare businesses overseas. Despite her busy schedule, she always makes time to come back and speak to current Humanim students. She stresses the importance for students to take copious notes and still has the textbook she received from training, so that she can refer to it whenever she needs clarity. She also encourages students to network and establish connections on LinkedIn.
"I'm so grateful for you (Wini Alexander) and Humanim," she said. "I truly wouldn't trade this journey for the world. The process was intense, but so worth it."
Tonia added, "Workforce development is needed in Baltimore City. If we want to help resolve poverty, violence, crime, and broken homes, it's places like Humanim that are extremely needed."
It's not just a program. Humanim's free, 9-week career training connects individuals with a dedicated support system and a network of employers with job opportunities. For more information, including how to apply, visit our website: humanim.org
[1] Jennifer Stano: Former Employment, Classification and Compensation Manager at Towson University
[2] Laurencia Hutton-Rogers: Former Chairperson of the Dept. of Health and Sciences at Towson University
[3] Kim Schatzel: 14th President of Towson University
[4] Tiffany Fuller: Former Associate VP of HR at Johns Hopkins University