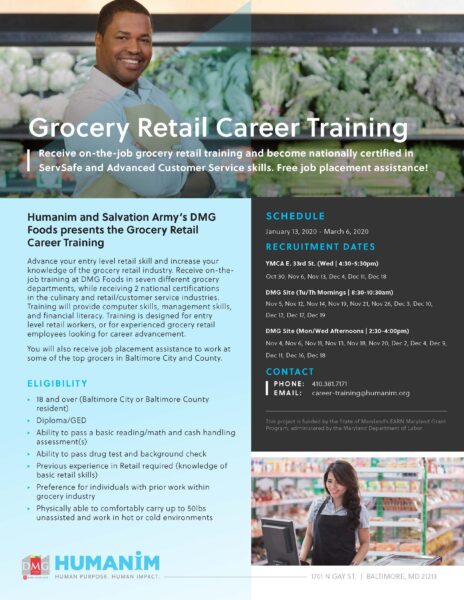 Advance your entry level retail skill and increase your knowledge of the grocery retail industry. Receive on-the-job training at DMG Foods in seven different grocery departments, while receiving 2 national certifications in the culinary and retail/customer service industries. Training will provide computer skills, management skills, and financial literacy. Training is designed for entry level retail workers, or for experienced grocery retail employees looking for career advancement. You will also receive job placement assistance to work at some of the top grocers in Baltimore City and County.
Eligibility:
18 and over (Baltimore City or Baltimore County resident)
Diploma/GED
Ability to pass a basic reading/math and cash handling assessment(s)
Ability to pass drug test and background check
Previous experience in Retail required (knowledge of basic retail skills)
Preference for individuals with prior work within grocery industry
Physically able to comfortably carry up to 50lbs unassisted and work in hot or cold environments
Details:
This 8-week training program takes place from January 13, 2020 – March 6, 2020.
Join us for an information session:
YMCA E. 33rd St. (Wed | 4:30-5:30pm)
Oct 30, Nov 6, Nov 13, Dec 4, Dec 11, Dec 18
DMG Site (Tu/Th Mornings | 8:30-10:30am)
Nov 5, Nov 12, Nov 14, Nov 19, Nov 21, Nov 26, Dec 3, Dec 10, Dec 12, Dec 17, Dec 19
DMG Site (Mon/Wed Afternoons | 2:30-4:00pm)
Nov 4, Nov 6, Nov 11, Nov 13, Nov 18, Nov 20, Dec 2, Dec 4, Dec 9, Dec 11, Dec 16, Dec 18