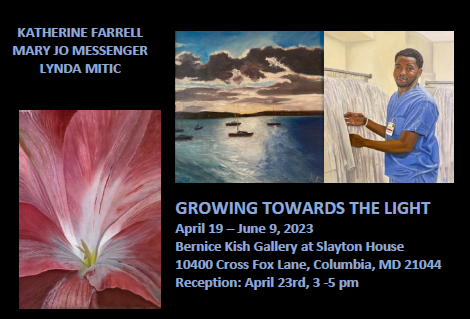 You're invited to the "Growing Towards the Light" art exhibition by Katherine Farrell, Mary Jo Messenger, and Lynda Mitic. The exhibition showcases Humanim through portraits and features other paintings of various subjects that focus on growth and light. The artwork will be on display from April 19 – June 9, with an opening reception on April 23 from 3 – 5pm. The Humanim paintings, as well as a portion of all art sales, will be generously donated to us after the show. We want to thank the artists for their support!
The gallery, Bernice Kish Gallery at Slayton House (10400 Cross Fox Lane, Columbia, MD) is free and open to the public. The hours are Monday – Friday from 9:00am – 4:30pm.
Join the artists at their "Gallery Talk" event in an intimate setting to discuss their creative process and inspiration on Wednesday, May 3 at 10am. This event is free, but registration is requested. Register by emailing events@wildelake.org or through Eventbrite.
About the Artists:
Katherine is a devoted and prolific painter. She prefers oils, but also uses gouache. Her subject matter is eclectic including, landscapes (mostly plein air), portraits and still life.
She was born in Ireland where she studied medicine. After a public health career in Maryland, she studied painting at Howard Community College and later at MICA and Pennsylvania Academy. She continues to study with several contemporary painters. She has won awards and exhibited in venues across Maryland as well as in Ireland and California.
Katherine has a studio in Ellicott City, named Sheebeen Busy. She and her husband Bernard live in Ellicott City, Maryland and have three daughters and four grandchildren.
Mary Jo is passionate about her painting and derives great joy from representing everyday beauty in oil on canvas. Favorite subjects are still life arrangements, portraits, and pets. As an avid gardener and pet owner, she has developed a love of plants and creatures of all kinds, which is reflected in her paintings.  She studied at Howard Community College, and currently studies with contemporary realist David Zuccarini at the Howard County Center for the Arts. Mary Jo and her husband, Scrib, live in Columbia, Maryland.
Lynda is a realist artist based in Ellicott City, Maryland. Her love of the plant world and photography is reflected in the images she records in her own gardens as well as in those she encounters during her travels. In her paintings, her goal is to vividly capture and magnify the beauty, power, detail and, sometimes, the whimsy of our natural world, as she focuses on the interplay of light and colors on form. Family history is associated with each of these plants that live on timelessly in her paintings in celebration of their natural beauty She studies with well-known realist painter and teacher, David Zuccarini. Lynda and her husband, Sig, live in Ellicott City, Maryland.