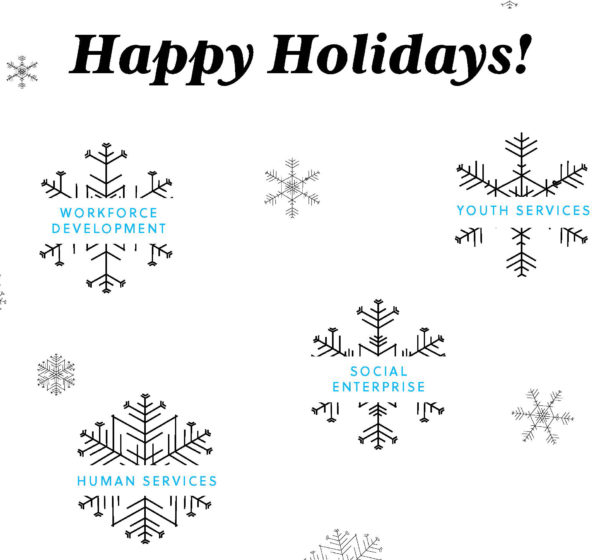 The holiday season is a wonderful opportunity to give thanks and to reflect upon our impact over the past year. Here are just a few of the ways in which we made strides in our mission to build pathways to economic equity, opportunity and independence in 2017:
Human Services
From expanding our pre-employment transition services for youth with disabilities to adding family training and in-home support services to our Autism programming, Humanim's Human Services division has grown its programming for individuals with special needs and behavioral health challenges. In 2017, Humanim's youth behavioral health program Healthy Transitions was honored by the Community Foundation of Howard County with the Casey and Pebble Willis Making a Difference award – for its positive impact and crucial work in addressing mental health issues in Howard County. To date, 82 youth struggling with serious mental health challenges have successfully transitioned into adulthood through this program.
Workforce Development
Our Workforce Development division partnered with several government agencies, colleges and non-profits this year to offer free career training and job placement assistance in the following fields: medical technician, warehouse inventory, administrative, and culinary. We placed 447 individuals in jobs with our anchor and community partners, including transitional youth and individuals with disabilities. As part of our 3rd year participating as a VITA tax preparation site, Humanim was recognized as the 2nd leading partner tax site, preparing over 760 tax returns for low-income community members.
Youth & Family Services
Humanim's youth outreach and engagement program Elev8 Baltimore built upon its community schools approach this year by partnering with several organizations to combat food insecurity, healthcare access, and financial barriers. Those partnerships included one with Hungry Harvest to bring the Produce in a SNAP program to Collington Square Elementary/Middle School, providing families access to affordable and healthy produce, as well as one with Vision to Learn and Warby Parker, providing free eye exams to students. Elev8 Baltimore also partnered with our own Workforce Development division, to expand our Match Savings program to parents of Elev8 youth, which helps families build savings through financial education, incentives, and up to a $500 match in savings.
Social Enterprise
Humanim's Social Enterprise division continues to move the economic needle in Baltimore and beyond through its strategic approach to social and environmental impact. During 2017, Details Deconstruction oversaw the decommissioning of a 1M sq. ft. Motorola office building, which created jobs and salvaged over 30,000 building materials that were donated to non-profits, state and city agencies. As part of a $4M project in partnership with the Historic East Baltimore Community Action Coalition to provide workforce development and employment opportunities for the local east Baltimore community, Humanim's culinary social enterprises City Seeds and School of Food moved into the Baltimore Food Hub this fall, where they will be the community anchor for food business training, education, and job creation.
And now comes the thank you part. Our impact is made possible by you – our supporters. Your gift this holiday season ensures we will continue to be able to make a positive impact in the lives of the individuals we serve. If you believe in the work we are doing, please consider making a donation.
We thank you for your continued support, and wish you a warm holiday season surrounded by family and friends.