Help Employ Marylanders through Technology!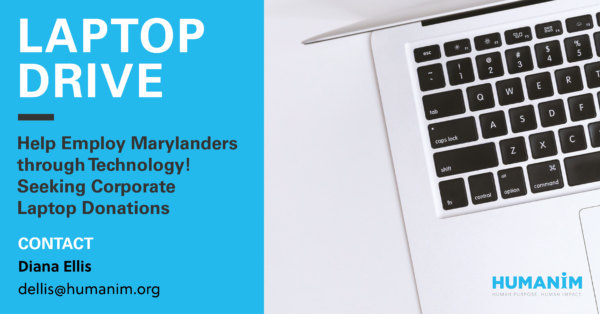 Reaching out to employers in the Baltimore area that have computer donation or recycling programs:
Humanim is seeking corporate laptop donations for our career training and job development programs. Laptops will be used by program participants to complete trainings, learn Microsoft Office Suite, and apply for jobs.
Seeking laptops in good condition, with the following specifications:
14'' or larger screen laptops
Intel i3 or higher processors
4GB or higher RAM
Your corporate laptop donations will help ensure our program participants reach their career goals through job training, certification, and employment. We thank you for your support!
To Donate or Learn more, contact: Diana Ellis at dellis@humanim.org
About Us
Humanim is committed to supporting and empowering individuals who face social or economic challenges, by building pathways to economic equity, opportunity and independence. Our workforce development division has been providing career training, job placement, and job support services for almost 50 years. Our programs are designed to equip both individuals and families with the skills necessary to achieve greater financial independence and long term success.