Today, Humanim received a grant from Wells Fargo & Company (NYSE: WFC) as part of a $3 million Wells Fargo Environmental Solutions for Communities grant program across 64 community-based nonprofits nationwide to help support land and water conservation, energy efficiency, infrastructure, and educational outreach.
"We are excited to be a recipient of this highly competitive Wells Fargo environmental grant program," said Cindy Plavier-Truitt, Chief Development Officer. "We truly appreciate being recognized for our creative solution in using this grant to link job creation with environmental impact using deconstruction to reduce pollutants entering the Chesapeake Bay."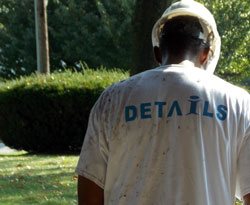 Humanim was named among 64 nonprofit recipients of Wells Fargo's 2013 Environmental Solutions for Communities grant program across the country in honor of Earth Day. The grant program began in 2012 as part of Wells Fargo's commitment to provide $100 million to environmentally-focused nonprofits and universities by 2020. It is funded by the Wells Fargo Foundation and administered by the National Fish and Wildlife Foundation through a $15 million, five-year relationship to promote environmental stewardship across the country.
"We're pleased to announce Humanim as a recipient of Wells Fargo's environmental grant program to help provide long-term solutions to the region's environmental challenges," said Ashley Grosh, head of Wells Fargo Environmental Philanthropy.
The goal of the Wells Fargo Environmental grant program is to provide cash grants for highly impactful projects that link economic development and community well-being to the stewardship and health of the environment. Our project was chosen by Wells Fargo and the National Fish and Wildlife Foundation (NFWF).
"We sought out the best ideas and programs to protect and conserve the environment for local communities," said Jeff Trandahl, executive director and CEO of NFWF. "Through Wells Fargo's generous contributions, these community-based projects will provide immediate benefits to local ecosystems and will help build and strengthen environmental stewardship ethics."
The grant program funded proposals in select cities/regions (see full list) in the following focus areas:
sustainable agriculture and forestry
conservation of land and water resources
energy efficiency and urban infrastructure
community outreach and environmental education
The community and environmental impacts of all grants will be measured and reported. For example, in 2012, the Wells Fargo Environmental Solutions for Communities grant program collectively funded 8,621 acres of habitat restoration and 165,970 newly planted trees. The grants also helped reduce more than 2 million gallons of runoff water and an estimated 331,840 pounds in CO21.
The full list of 2013 winners can be found at http://blog.wellsfargo.com/environment.  Details of the program and a link to the 2014 application can be found at the National Fish and Wildlife Foundation application website: www.nfwf.org/environmentalsolutions