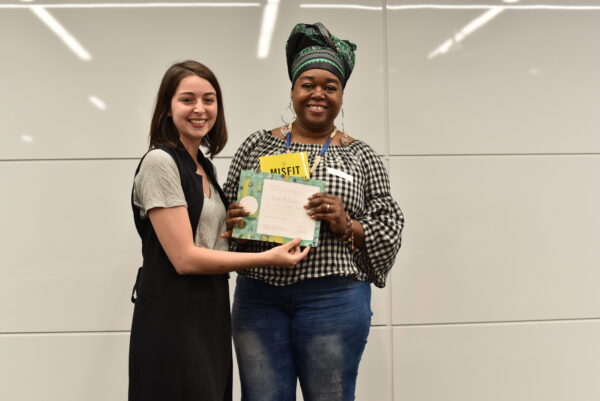 Union Market Partners with School of Food for Food Entrepreneur Business Workshops
Washington, D.C. (August 21, 2017) — This September, Union Market joins forces with School of Food, the yearlong business training program for D.C.-based food entrepreneurs, to host a monthly series of educational workshops with leading experts.
From September 2017 through May 2018, School of Food program curator Kim Bryden, will co-teach the two-hour workshops alongside industry experts on a range of topics, such as packaging and label legalities, recipe costing and financial forecasting. School of Food Passports are available to participants for $149 (or $20 per class), providing one year of workshops, one-on-one time with workshop experts, exclusive resources and more. Experts from Thinkory, iStrategyLabs, the Latino Economic Development Center and more will speak to various facets of business, marketing, finance, health, law and more to help cultivate small businesses in D.C.
"School of Food is an exciting addition to Union Market," says EDENS Director of Culinary Strategy Richie Brandenburg. "We are a community built on helping small businesses launch and scale, so bringing in a program that helps secure their business makes sense."
"We're so excited to bring our School of Food program to the D.C. area, and especially with a partner like Union Market," says Bryden. "With our workshops, we hope to give entrepreneurs the tools they need to grow their businesses, with the goal of becoming productive job creators in the District."
Union Market is also sponsoring two Passport scholarships for small businesses in the D.C. area during the 2017-2018 school year.
School of Food is a project by Baltimore-based City Seeds, a social enterprise of Humanim; a non-profit organization dedicated to workforce development and creating jobs in the region.
To purchase a School of Food passport, please click here, and for more information about School of Food, visit: www.schooloffood.org.
Full list of School of Food workshops:
• September 12: Defining Your Mission + Core Values
• Industry Expert: Thinkory
• October 11: Understanding Your Unique Value Proposition
• Industry Expert: iStrategyLabs (ISL)
• November 15: Set Up Legal Foundations, Employee Relations
• Industry Experts: Coburn & Greenbaum, PLLC; Oasis Community Partners
• December 13: Packing + Label Legalities
• Industry Expert: Latino Economic Development Center
• January 24: Financial Forecasting + Recipe Costing
• Industry Experts: Kevin Doyle, KMD Consultants; Lee Haust, Exelon
• February 7: Food Safety for Production: DC Health Regulations
• Industry Expert: Latino Economic Development Center
• March 14: Small Business Accounting
• Industry Expert: Mark Grant, CPA
• April 4: Crafting the Perfect Pitch
• Industry Expert: Vinetta Project DC
• April 25: Distribution Opportunities
• Industry Experts: Richie Brandenburg, Union Market; Danielle Vogel, Glen's
Garden Market; Rob Wray, Whitebox
• May 16: Sales and Social Media Tips + Tricks
• Industry Expert: Farrah Skeiky, Dim Sum Media
About School of Food: School of Food is not a one-size-fits-all business training program; it's made to order based on your needs. Our personalized curriculum takes current and future food biz owners on a journey that begins with the basics (defining your mission, understand your unique value proposition), moves into the nitty-gritty (financial forecasting, health regulations) and ends with all the fun stuff you need to know when going to market (distribution, social media marketing). Sign-up today so you can bring home the bacon tomorrow.
About Union Market: The Union Market District, located a short walk from the NoMa/Gallaudet metro, is a 45-acre district that is planned for over 8 MSF of development. EDENS has a clear vision to redevelop the district into one of DC's most vibrant, diverse and thriving neighborhoods—a living laboratory for a sustainable urban community and place for creative minds and businesses to connect, thrive and make DC their own. Since opening in September 2012, The Market at Union Market, the acclaimed food market with over 40 local artisans, now averages 15,000 visitors per weekend and has hosted over 400 events. For more information about Union Market, please visit www.unionmarketdc.com.