Join us for our Spring Job Fair!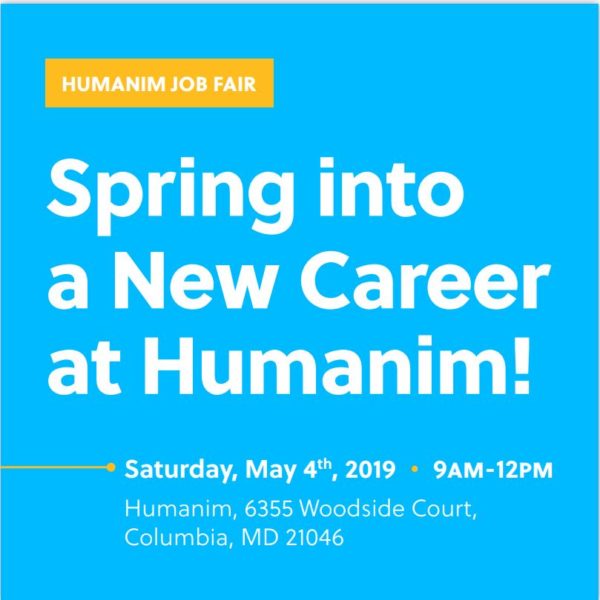 Humanim is hiring! Join us for our Spring Job Fair this May, to learn about careers at Humanim, plus apply and interview on-site!
We are seeking candidates for the following positions:
·      Direct Support Professionals (Part-time and Full-time)
·      Rehabilitation Counselors (Part-time and Full-time)
·      Licensed Social Workers
·      And more!
At Humanim, our employees are passionate about what they do, and we are passionate about serving our employees. From employee recognition and wellness programs, to leadership development opportunities and annual company events, we strive to support our staff's success, health, job satisfaction, and professional development. If you want to be part of a great team and make a positive impact in your community, you belong here!
Details
When: Saturday, May 4th, 2019  9am-12pm
Where: Humanim
6355 Woodside Court
Columbia, MD 21046
What to Bring
Bring multiple copies of your resume, any training certificates, plus come prepared to share information about your work history. We look forward to meeting you!
How to Apply
Go to: www.humanim.org/careers
All job candidates are encouraged to apply online ahead of time!
About Humanim
Humanim is committed to supporting and empowering individuals who face social or economic challenges, by building pathways to economic equity, opportunity, and independence. Our person-centered approach emphasizes individualized care, community integration and customized employment, with the goal of empowering clients to achieve both personal and economic independence.
Contact
Christin Barnes-Wilson, Recruitment & Training Coordinator
410-381-7171 ext 3154
cbarneswilson@humanim.org