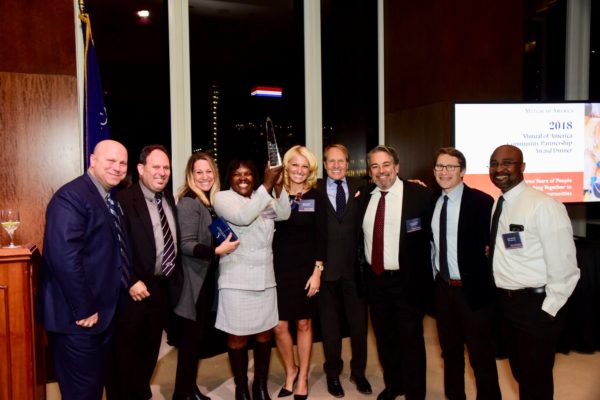 We are honored to be awarded Mutual of America's 2018 National Governor Hugh L. Carey Community Partnership Award for our Baltimore City Deconstruction Project – a pioneering collaboration with Baltimore City Housing and the Office of Sustainability, U.S. Forest Service, Maryland Department of Housing and Community Development, national furniture retailer Room & Board, and Humanim social enterprises Details Deconstruction and Brick + Board.
Mutual of America's Community Partnership Award annually honors the outstanding contributions of nonprofit organizations who are delivering solutions to critical challenges facing our country.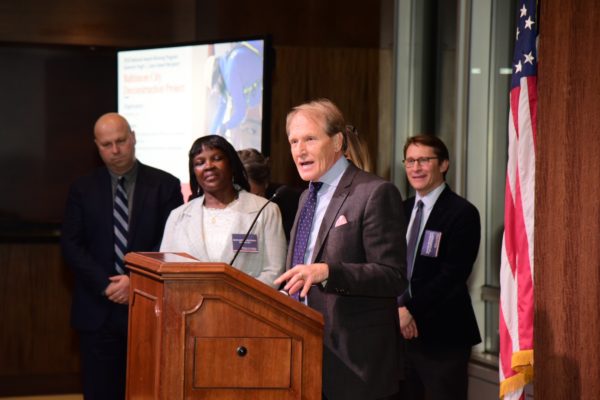 From the Mutual of America website:
Humanim is deconstructing vacant houses in Baltimore's hardest-hit neighborhoods, hiring and training residents to do the work. Many of these workers were formerly incarcerated people trying to change their lives; today, all earn a living wage and are eligible for raises and benefits as they gain experience. As they take apart buildings, piece-by-piece, much of the materials saved are being sold through a thriving sales and distribution channel for reclaimed brick and board that Humanim developed. Rather than ending up in landfills, 1.2 million bricks and more than 425,000 board feet of lumber have been salvaged and sold in 20 states and six countries to‐date. Once the buildings are cleared, Humanim makes way for the City of Baltimore and the U.S. Forest Service to turn the empty lots into green spaces.
"The Baltimore City Deconstruction Project is a win for the city, for residents who might not otherwise find work and for the environment. Over 185 individuals have been employed to-date, and in the past two and a half years, not a single previously incarcerated worker has reoffended," said Henry Posko, President and Chief Executive Officer. "Based on this success, the State of Maryland has agreed to expand our program to develop employment opportunities for other returning citizens."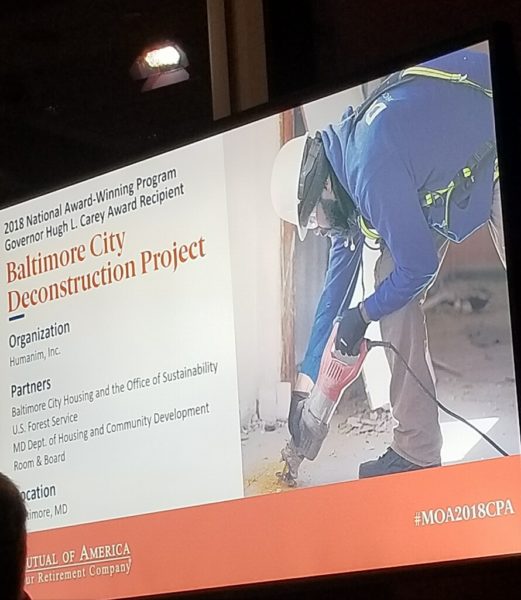 Learn more about this prestigious award at the MOA website here.
Or download their 2018 Community Partnership Report below!