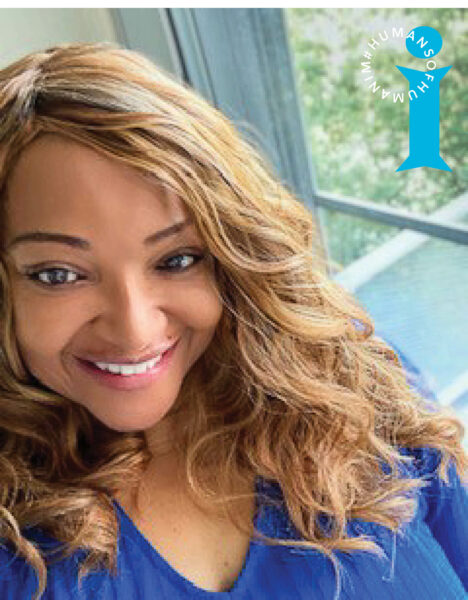 #HumansofHumanim |  Meet Dionne! Dionne works in Humanim's Youth Services division serving Baltimore City, and has been with #TeamHumanim for two and a half years.  As a Youth Transition Coordinator, she works with students with disabilities as they transition from high school into the workforce, which includes helping students with their internships and teaching them about topics such as goal setting, job presentation, resume writing, cultural diversity, and more.
"This role has allowed me to be a leader and an advocate in decreasing stigmas around youth with disabilities within the community. Advocacy is important in my role, as my student's trust and depend on me to monitor their onsite placements in the community and to ensure it's a win-win situation for the student and employer."
Having been in the youth services field for over 30 years, Dionne is passionate about her profession and the impact it has for those she serves.  "I look forward to working daily.  It's my utmost pleasure to teach and supervise young individuals with disabilities online and transition them into the work environment. For me, the joy comes when they beat the odds and win—the glee, the happiness that transcends is amazing."
Outside of work, Dionne is an avid international traveler and has been to many countries to serve, including in Kenya, Ghana, Nigeria, and Senegal. "This is a result of being raised by missionaries (grandparents). I'm a Jamaican kid at heart though that loves the water, walking barefoot, and speaking in dialect. I'm a cruiser, and I also travel a lot on weekends because my husband is a known gospel singer who keeps my life busy from city to city on most of my weekends."
She is also a New York Yankee fan and enjoys track and field meet -especially when Jamaica is running in the Olympics. Her favorite foods include Jamaican dishes – oxtails and curry goat, rice & peas, and plantains.
Recalling an experience that impacted her, Dionne shares, "While completing my degree, my husband Damon was diagnosed with heart valve issues. He underwent open-heart surgery at a young age, and everything dropped in my lap. This incident made me realize how strong I was—I was working at the time, going to school, being a mother, and making decisions for my husband's business and healthcare. I didn't know I would survive and felt depleted, defeated, tired, and weary many days… I have a strong faith, and God supplied everything I needed to move forward, my support system was awesome, and it initiated strength which assisted me in overcoming certain challenges. I was empowered then to get my business right, create a support team, and attend groups where like minds are expressing helpful advice and go speak to a therapist. My husband recovered nicely and resumed normalcy."
"I don't take my job for granted, I enjoy my team and the teamwork which contributes to the dream, much respect to diversity at Humanim and female power, and the great support that my Humanim leadership team provides. We are a family, and leadership demonstrates this to us all."