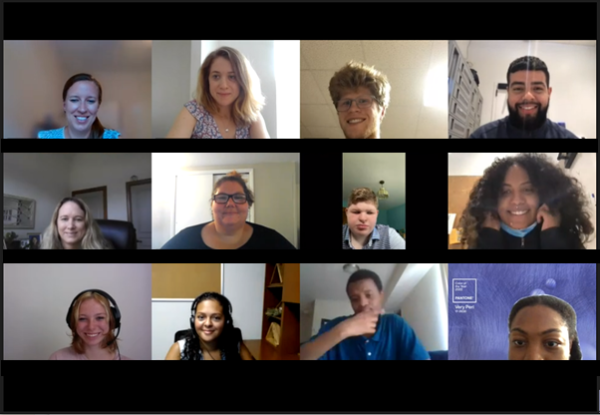 Humanim's Impact Leaders Network members can make a lasting impact on the youth enrolled in our Start on Success (SOS) program through various volunteer opportunities, including mock interviews. This month, professionals from Fulton Bank and Capital One signed on to give students the chance to practice public speaking, as well as receive instant feedback and coaching, to help them launch their careers with confidence.
Our Start on Success (SOS) program provides high school students with disabilities the opportunity to participate in a virtual classroom setting to receive a combination of career and workplace readiness training to develop social and self-advocacy skills for independent living. The overall goal of the SOS program is to equip youth with the necessary skills to succeed in the 21st century workforce, and to obtain knowledge and experiences necessary to become competitively employed as productive members of the workforce.
"Parents of most students are surprised to see how much the students evolve," said Dionne Little, Youth Transition Coordinator at Humanim. "Students become knowledgeable about different topics that stir their souls and create a shift. They become more willing to learn a trade, or work in a paid internship, speak or explain themselves better, and be more respectful."
Our SOS program exceeded the expectations of one student's mother. Her son has now been in the program for seven weeks. She describes him as respectful, attentive, and says he does not want the program to end!
When you join our Impact Leaders Network, you can help transform the lives of our students and make a lasting impression on their future endeavors.
Connect with ILN
Attend our happy hour and networking event on Wednesday, September 7 at the historic American Brewery Building from 5-7 p.m. to learn more. Meet like-minded professionals and hear about how you can get involved with our programming. Please RVSP by August 31 at: bit.ly/RSVPConnectWithILN