Join Humanim's Impact Leaders Network for Brew & Brainstorm on March 23rd from 5-7pm.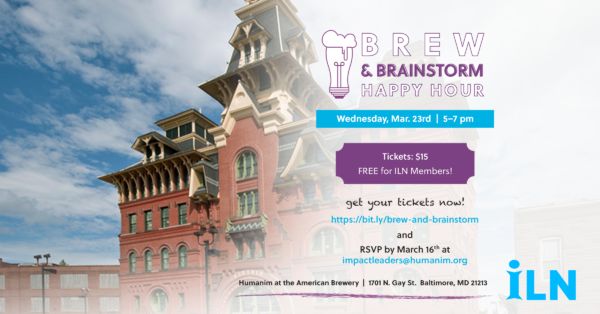 Enjoy local craft beers, a brewery tour, and lively discussion at Humanim's Baltimore headquarters at the historic American Brewery! Guests will have the opportunity to network with like-minded impact leaders while engaging in an intentional discussion on how for-profit, government, and non-profit organizations can partner to create a more just and equitable society.
Refreshments will be provided by City Seeds, Humanim's culinary social enterprise.
Tickets are free for ILN members and $15 for non-members.
Get your tickets by Mar. 16th at: https://bit.ly/brew-and-brainstorm
ILN Members must RSVP by Mar. 16th at: impactleaders@humanim.org
Humanim's Impact Leaders Network (ILN) is a supporting board of passionate young professionals looking to network and meet like-minded peers while catalyzing self-empowerment for those in our communities lacking opportunity.  Members achieve this through leadership and volunteer opportunities, in connection with Humanim's Board of Directors and the individuals we serve through our human service and workforce development programs. In addition to impact initiatives, ILN members participate in professional development sessions, social networking events, and have the opportunity to serve on the Impact Leaders Executive Council.
ILN members believe in the potential of every human being and that we should work to build pathways to autonomy and opportunity for those facing social and economic barriers.
Interested in joining the ILN?  Learn More + Register HERE!