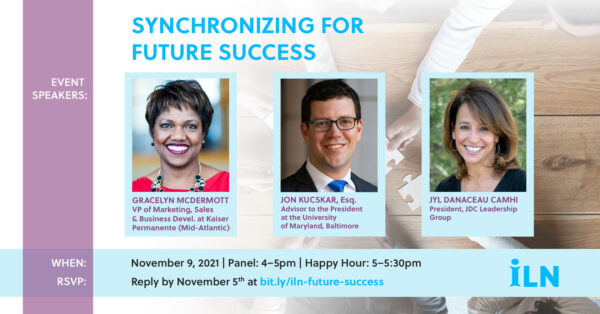 Join Humanim's supporting board of passionate young professionals, the Impact Leaders Network, for our November professional development event: "Synchronizing for Future Success."
As impact-oriented professionals, ILN Members & Friends have many goals for our careers and in our community, but how do we turn those goals into reality? Our panel of leaders from a variety of fields, discuss strategies to help you reach your professional goals and become an effective leader in your organization and in the community.
This event will be moderated by Cindy Plavier-Truitt, Humanim's President & CEO.
WHEN: Tuesday, November 9, 2021 | Panel: 4-5pm | Happy Hour: 5-5:30pm
WHERE: Virtual | Zoom link will be sent prior to event
RSVP: Reply by November 5th at bit.ly/iln-future-success
---
Speaker Bios:
Gracelyn McDermott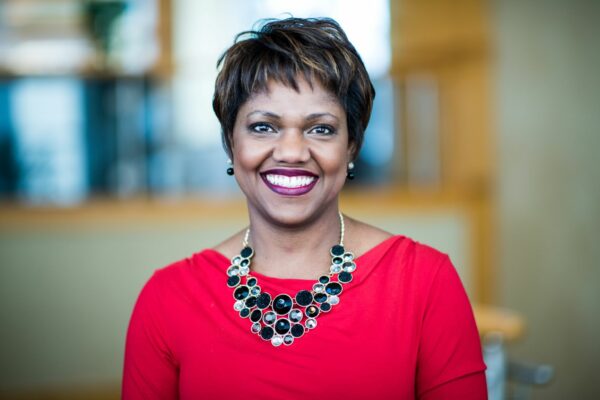 Gracelyn A. McDermott, Vice President of Marketing Sales and Business Development at Kaiser Permanente of the Mid-Atlantic States is an innovative and diverse executive with over 20 years' experience in Project, Program and Sales & Account Management.
 Kaiser Permanente is recognized as one of America's leading health care providers and not-for-profit health plans.  In her role at Kaiser Permanente, Gracelyn is responsible for marketing, sales & business development, providing leadership in the development and execution of market and business strategies that deliver predictable and sustainable growth in membership, revenue, and margin.  Overall, she is responsible for retention and growth of Healthcare Commercial Insurance Accounts (Small and Large), Individual, Medicare, and Medicaid.
Gracelyn's professional career includes sales, operations and information technology leadership in the health care environment.  Prior to joining KP, Ms. McDermott served as Vice President of Accrediting & Client Services at URAC, an independent health care accrediting organization.  In this role, she oversaw all aspects of the accreditation process from applicant preparation and submission through to the independent accreditation decision.  Ms. McDermott also served as the Director, Specimen Administration for Ameritox, LLC, formerly a leader in pain medication monitoring, offering laboratory services and practice management tools to help clinicians coordinate and optimize the care of chronic pain patients.  In this capacity, she built a new department within the organization, providing management oversight of over 350 Specimen Processors and 50 Third Party Collection sites.
Previous responsibilities include oversight of program and account management for The McConnell Group, Inc., a biodefense, biomedical and health science company, providing a comprehensive selection of professional and technical services to the government sector.  She also held a series of roles with progressive program management responsibility, culminating as Vice President of Scientific Services for ICON Development Solutions, a contract research organization. In this role, Ms. McDermott managed a department of about 250 staff comprised of Project Management, Biostatistics, Data Management, SAS Programming, Clinical Operations, Pharmacokinetics, Pharmacodynamics, Modeling and Simulation – all in support of Clinical Trial Management.
Ms. McDermott holds a M.B.A. from Johns Hopkins University in Baltimore, MD.  She is a certified Project Management Professional (PMP) and a member of Leadership Maryland, Class of 2018.  She is currently serving as Chair for the Maryland Chamber of Commerce; and, as Chair of the Board of Trustees for her undergraduate alma mater, Mount Saint Mary's University.  She is also a Board Member for Vehicles for Change, Prince George's County Chamber of Commerce, and the Excellence in Education Foundation for PGCPS, Inc.  She resides in Mount Airy, MD with her husband and two daughters.
 Jon Kucskar, Esq.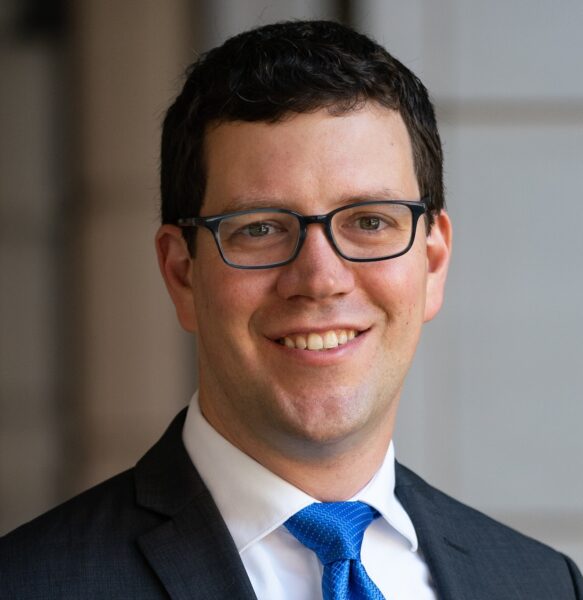 Jon Kucskar, Esq., has served as Advisor to the President at the University of Maryland, Baltimore (UMB) since 2018. In that role, he supports the UMB president by providing professional, high-level staffing of the president and his agenda; planning and coordinating long- and short-term projects in the university's priority areas; and acting as a liaison between the president's office and others. In addition, Kucskar has served as an adjunct professor at the University of Maryland Francis King Carey School of Law since 2014. Previously, Kucskar served as Senior Commission Advisor at the Maryland Public Service Commission; Deputy Legal Counsel to Maryland Governor Martin O'Malley; Senior Attorney at the U.S. Government Accountability Office; and as law clerk for a federal judge.
Kucskar earned his law degree from Maryland Law School, bachelor's degree from Boston College, and a professional certificate from UMB in Intercultural Leadership. He is a 2017 Leadership Maryland graduate and 2018 winner of The Daily Record's VIP Award.
Jyl Danaceau Camhi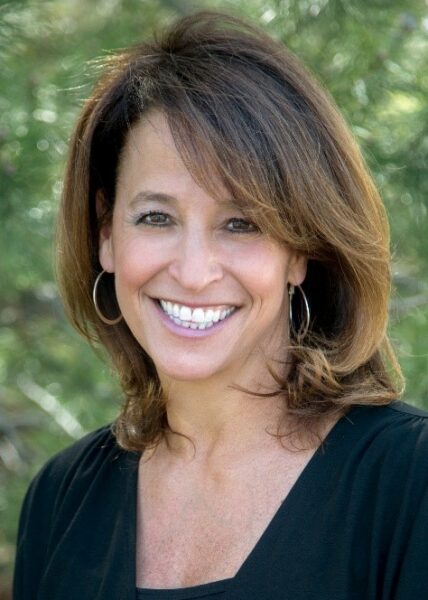 Jyl coaches high potential leaders and executives, and she designs and facilitates leadership development programs for senior leadership teams.
She draws from her own 25+ years of experience as a corporate and entrepreneurial business leader.  She began her career as a sales and marketing leader in Fortune 500 technology companies, including at Microsoft where she went on to run an explosive-growth $350M line of business and was named Top Manager in North America. She later founded a tech startup in the children's education industry and led it to reach the Entrepreneur 500.
Jyl graduated Summa Cum Laude from the University of Maryland with a B.S. in Computer Science and received an M.S. from George Washington University.  She is a Georgetown University trained Certified Leadership Coach, Certified Facilitator, and Certified Organizational Consultant.