Big congratulations to Jeff Tsuruoka, Vocational Services Job Coach and Personal Supports at Humanim, who was selected as a winner for DSP Recognition by the Maryland Department of Disabilities and Maryland Developmental Disabilities Administration, highlighting the essential and exemplary work of DSPs in Maryland.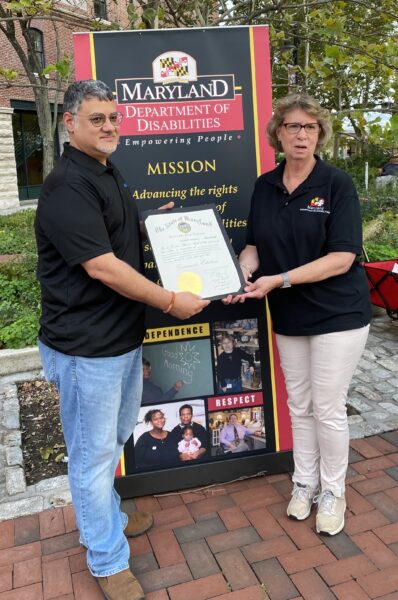 Jeff was celebrated by his team at Humanim, and received a Governer's Citation from the Maryland Developmental Disabilities Administration at the Orioles game last week.
Jeff has been a part of Humanim since November of 2013. Before coming to Humanim, he spent 21 years as a Sous Chef with local high-end restaurants and caterers throughout Maryland. Jeff's first position at Humanim was as a Rehabilitation Counselor in the Gerwig Day Program as a classroom instructor. He was soon promoted to Community Coordinator before transitioning to Vocational Services Job Coach & Personal Supports in June 2019. During his tenure at Humanim, he has received three i25 (employee recognition) nominations and has been selected twice for outstanding service.
Apart from his work at Humanim, he has served as a volunteer for Athletes Serving Athletes, a non-profit organization serving individuals with developmental disabilities and mobility issues, since 2014. In 2017, Jeff was named Volunteer of the Year by Athletes Serving Athletes.
Jeff also enjoys traveling and spends each year celebrating his wedding anniversary at Disneyworld with his beloved wife of 28 years, Ilene. He is an avid guitar player, and Hard Rock and Blues are his favorite music styles.
Please join us in congratulating Jeff on this incredible achievement and recognition! We are honored to have him on the #TeamHumanim.