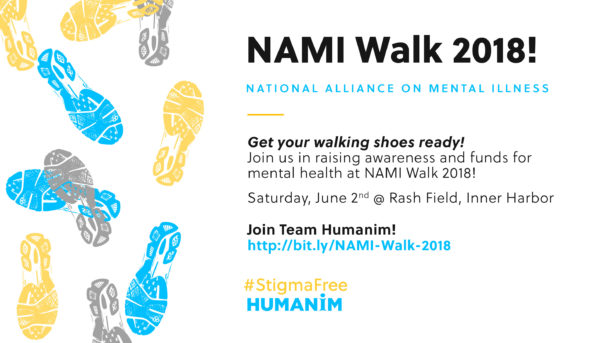 Get your walking shoes ready! Join us in raising awareness and funds for mental health at NAMI Walk 2018.
NAMI, the National Alliance on Mental Illness, is the nation's largest grassroots mental health organization dedicated to building better lives for the millions of Americans affected by mental illness. Each year, Humanim participates in NAMI Walks – an annual 5K event that raises awareness and funds for NAMI organizations across the country.
This year's NAMI Walk is taking place at the Inner Harbor and we're excited to have all staff and clients join.
Please check out our Team Humanim Fundraiser page where you can learn more about participating or donating to this great cause: http://bit.ly/NAMI-Walk-2018