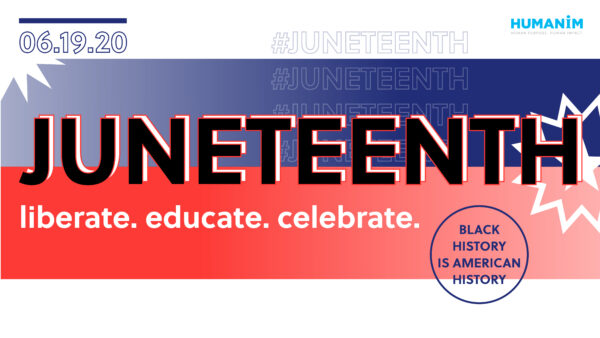 Today we recognize and celebrate Juneteenth. For those who may not be familiar with this holiday, Juneteenth commemorates June 19, 1865, when Union general Gordon Granger read federal orders in Galveston, Texas, that all previously enslaved people in Texas were free. Although the Emancipation Proclamation had formally freed African American slaves over 2 years earlier, Texas – the most remote of the slave states and with few Union forces – was the last to abolish slavery, and thus June 19th marks the effective end of slavery in the U.S.
While #Juneteenth is a valuable milestone in our history, it is not the end to our country's history of inequality. The fight for racial equity and justice continues, in urgency. We hope you'll be able to take time today to reflect on, celebrate, or recognize Juneteenth and its significance in American history, as well as in the ongoing struggle for racial justice.
Below are some events happening this week to commemorate, educate and celebrate this holiday.
---
6 NATIONAL MUSEUMS CELEBRATE JUNETEENTH VIRTUALLY
Fri. June 19th: Six black museums and historical institutions across the U.S. have collaborated for a digital commemoration of the 155th anniversary of Juneteenth: https://www.blkfreedom.org/
"JUNETEENTH: WE NEED TO TALK"
Fri. June 19th: The National Park Service Chesapeake Bay Office invites you to listen into a candid conversation among a group of distinguished Black professionals in the conservation community. We will explore the intersection of race, history, and the outdoors, and its relationship to our shared work in connecting people with and conserving the important Chesapeake places. (see attached flyer). Zoom Registration Link: https://zoom.us/webinar/register/WN_7Sp_MvodTC2ThqnRoXov9A
NO BOUNDARIES COALITION: "CELEBRATING AFROFUTURE" VIRTUAL DISCUSSION
Fri. June 19th: The No Boundaries Coalition will host "Juneteenth: Celebrating the Afrofuture," a discussion of "building power for a brilliant future for black people in Baltimore and throughout the country" with several speakers, including 2018 OSI Community Fellow Eric Jackson of the Black Yield Institute. https://noboundariescoalition.com/buyingclub/ (scroll down)
ARENA PLAYERS VIRTUAL CELEBRATION & DISCUSSION
Fri. June 19th: Arena Players, the oldest continually operating African American theater in the country will host a Virtual Celebration and Discussion to "celebrate the contributions of our ancestors and discuss how to continue a legacy of art and activism." https://www.facebook.com/events/256440638763728/
BMORE YOUTH COALITION JUNETEENTH CELEBRATION
Fri. June 19: The Bmore Youth Coalition will host a Juneteenth Celebration from 2:45-5:30pm on Friday at McKeldin Square. (see attached flyer)
RUNNERS4JUSTICE JUNETEENTH VIRTUAL RUN/WALK
Fri. June 19th: Runners4Justice's will hold a Juneteenth Virtual Run/Walk. https://www.facebook.com/events/665914110655413/
JUNETEENTH BALTIMORE FREEDOM FEST MARCH
Fri. June 19: The Juneteenth Baltimore Freedom Fest march will be held from 3 to 8pm, starting at Penn North and ending at Druid Hill Park. (see attached flyer)
VIRTUAL JUNETEENTH ART BAZAAR
Sat. June 20: Reservoir Hill's Dovecote Cafe will host a Virtual Art Bazaar on Saturday, June 20th from 11am to 4pm at www.dovecotecafe.com
ANIMATED DOCUMENTARY: "SEGREGATED BY DESIGN
'Segregated By Design' is an animated documentary that examines the forgotten history of how our federal, state and local governments unconstitutionally segregated every major metropolitan area in America through law and policy. Suggestion: Host a zoom screening with your friends! https://www.segregatedbydesign.com/

Learn More About Juneteenth:
https://www.juneteenth.com/history.htm
https://nmaahc.si.edu/blog-post/historical-legacy-juneteenth