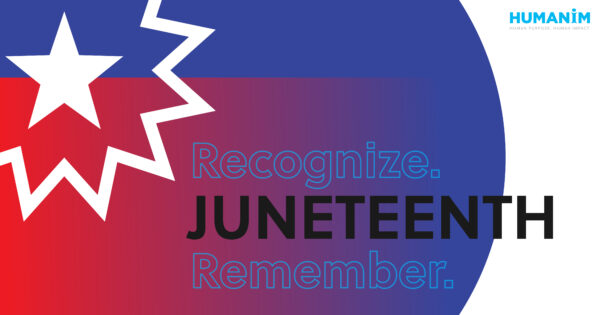 Today we recognize and celebrate Juneteenth. For those who may not be familiar with this holiday, Juneteenth commemorates June 19, 1865, when Union general Gordon Granger read federal orders in Galveston, Texas, that all previously enslaved people in Texas were free. Although the Emancipation Proclamation had formally freed African American slaves over 2 years earlier, Texas – the most remote of the slave states and with few Union forces – was the last to abolish slavery, and thus June 19th marks the effective end of slavery in the U.S.
While Juneteenth is a valuable milestone in our history, it is not the end to our country's history of inequality. The fight for racial equity and justice continues, in urgency. We hope you'll be able to take time today to reflect on, celebrate, or recognize Juneteenth and its significance in American history, as well as in the ongoing struggle for racial justice.
Below are some events happening this week to commemorate, educate and celebrate this holiday.
---
10 MUSEUMS CELEBRATE JUNETEENTH VIRTUALLY
Virtual: 10 black museums and historical institutions across the U.S. have collaborated for a digital commemoration of the 155th anniversary of Juneteenth: https://www.blkfreedom.org/
ACADAMY ART MUSUEM JUNETEENTH 
Sun. June 20: The Academy Art Museum (AAM) in Easton, Maryland, will present its annual Juneteenth Celebration on Sunday, June 20, from 12 to 4 p.m. on the Museum grounds. This festive, free celebration of African American culture, art, and history promises fun for all ages. Learn more: https://www.facebook.com/events/856597875066185?ref=newsfeed
DOVECOTE CAFE JUNETEENTH ART BAZAAR
Sat. June 19: Reservoir Hill's Dovecote Cafe will host their 5th Annual Juneteenth Festival and Art Bazaar on Saturday, June 19th from 11am to 7pm. Details at https://www.instagram.com/p/CPEiXihDvMW/
HOWARD COUNTY CENTER OF AFRICAN AMERICAN CULTURE 
Sat. June 19: Join the Howard County Center of African American Culture for "A Conversation on Race" Racism-Equality-Reconciliation featuring faith-based and community leaders. The event is two-sessions beginning at 10am, one in-person and one virtual. Details and schedule are available here.
ANIMATED DOCUMENTARY: "SEGREGATED BY DESIGN
'Segregated By Design' is an animated documentary that examines the forgotten history of how our federal, state and local governments unconstitutionally segregated every major metropolitan area in America through law and policy. Suggestion: Host a zoom screening with your friends! https://www.segregatedbydesign.com/

Learn More About Juneteenth:
https://www.juneteenth.com/history.htm
https://nmaahc.si.edu/blog-post/historical-legacy-juneteenth