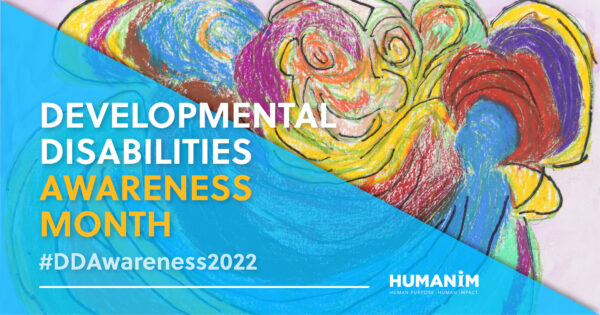 March is Developmental Disabilities Awareness Month! #DDawareness2022 highlights the many ways in which people with and without disabilities come together to form strong, diverse communities.
At Humanim, our goal is to empower individuals with developmental disabilities to achieve both personal and economic independence, and to promote their inclusion in all facets of community life.
Follow along this month as we recognize some of the individuals in our programs who have overcome barriers to achieve personal goals and contribute to the amazing diversity of our community!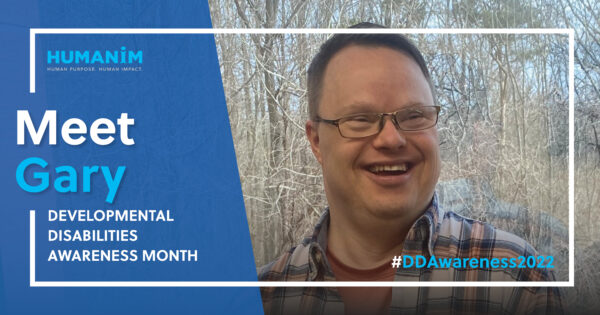 Meet Gary! Gary first joined Humanim's programs in 2011, when he was recovering from surgery and using a wheelchair, and he has worked with us ever since. Remarkably, he has worked with the same Direct Support Professional (DSP) since 2013.
Gary goes out with his DSP three days a week, using a walker to stay active. He enjoys walking with his DSP in the mall for exercise – while keeping an eye out for loose change on the ground – playing mini-golf, eating out, and going to the library to get DVDs. With assistance from his DSP, he also corresponds with pen pals.
He enjoys challenging himself to be his best by working on counting change while making transactions in the community, completing math problems and puzzles, and working on improving his recognition of site words in an activity book. Gary also enjoys playing bingo, Skee-ball and card games with his DSP and loves playing with his niece and nephew. A committed Ravens and Orioles fan, Gary had a birthday party in fall 2021 and the cake was orange, his favorite color.
Gary also gives back. He and his DSP buy canned goods for the food drive at his church and to feed the homeless.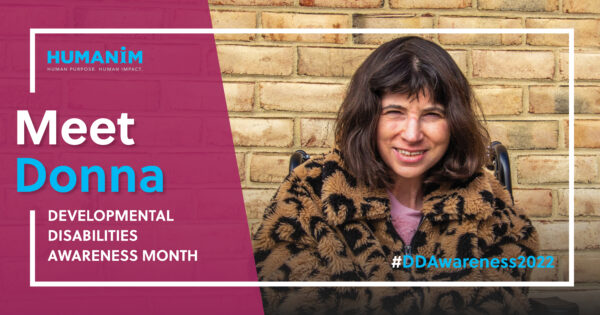 Meet Donna! Donna has been at Humanim since 1989 – yes, 1989! – and received Employment Services for many years. With Humanim's support, Donna has worked in various positions, including at McDonald's as a lobby attendant, at Hilton Inn in a maintenance position, and at That's Amore as a silverware roller.
Donna also received services from the Adaptive Living program and now receives Personal Support services. She appreciates the support she gets from her DSP, including help completing everyday tasks, picking recipes for the week, making a list and shopping for recipe ingredients and cooking meals. Her DSP also helps with organizing her apartment and with transportation to appointments. Having a close relationship with her DSP makes her feel less socially isolated, especially during the pandemic.
She looks forward to the opening of in-person services, so she can connect with old friends from the day program as well as build new relationships!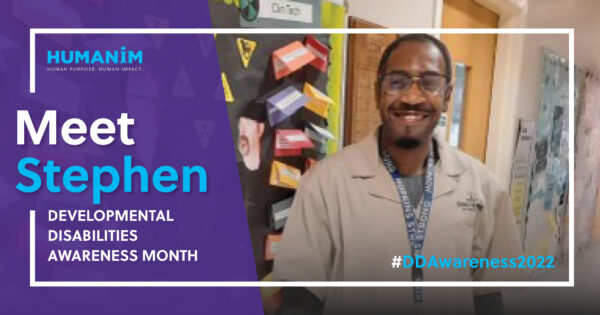 Meet Stephen! After receiving Employment Services supports from Humanim, including assistance in improving his computer skills – Stephen was placed in employment at Johns Hopkins Hospital, a workplace he enjoys, and where he has been for four years.
His employment journey began in the hospital's Housekeeping team. Stephen's strong leadership and organizational skills soon earned him recognition as Employee of the Year. A year later, Stephen was promoted to the Weinberg Intensive Care Unit (ICU) where he supports the team. One of his duties is going to the blood bank for nurses in the ICU. A fast learner and a team player, Stephen has also helped train other employees in the unit and is a valued member of the ICU team.