May is Mental Health Month! Humanim's programs serve individuals with mental illness through supported living and housing support, rehabilitation programs, supported employment, and community support services. Like all of Humanim's programs and services, our focus is on individualized care and self-empowerment. Read more about our Behavioral Health Department here: https://humanim.org/what-we-do/human-services/behavioral-health/
Meet Bob!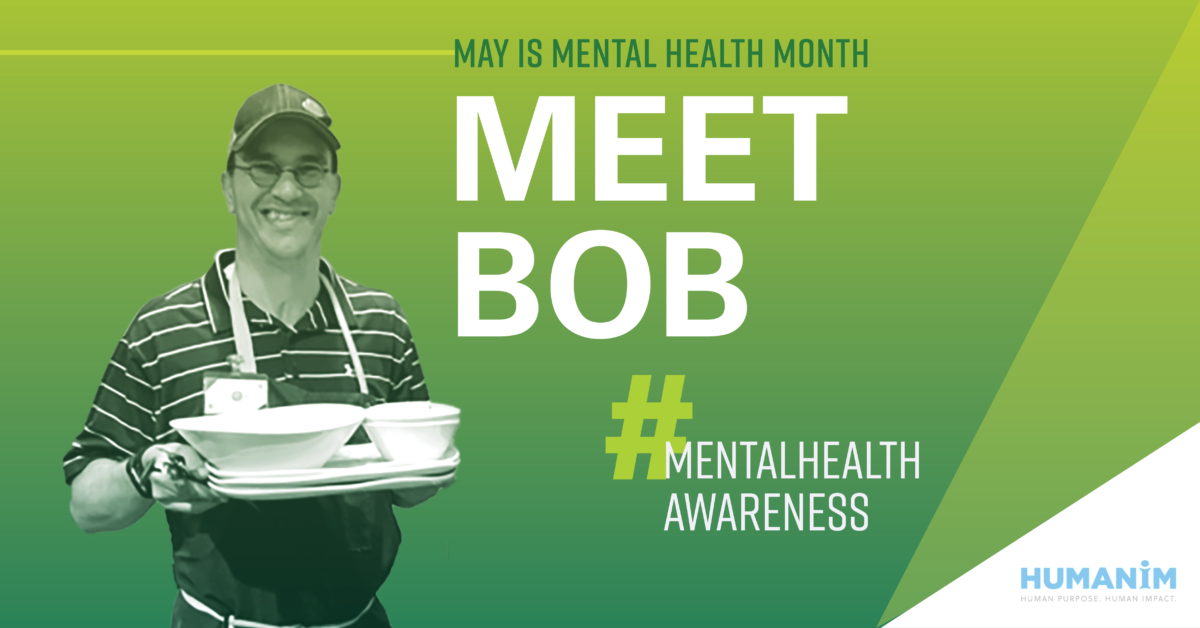 "Humanim has helped me to find jobs, offered me support when needed during employment and maintained healthy communication with me throughout my career. I feel that Humanim has helped me to grow and mature as a person. I would not be the man I am today without their help." – Bob – EBSE program.
Bob first began Humanim's Evidence Based Practice Supported Employment program (EBSE) in 2011. He has maintained employment over the past 8 years, and in October 2017, Bob started at Panera Bread as a Restaurant Associate. This part-time position quickly moved to full-time thanks to his enthusiasm and excellent customer service skills. He continues to show great work ethic through his hard work and motivation!
Humanim's EBSE program supports individuals who experience severe mental illness in their efforts to achieve steady employment in mainstream, competitive jobs.
Meet Stephen!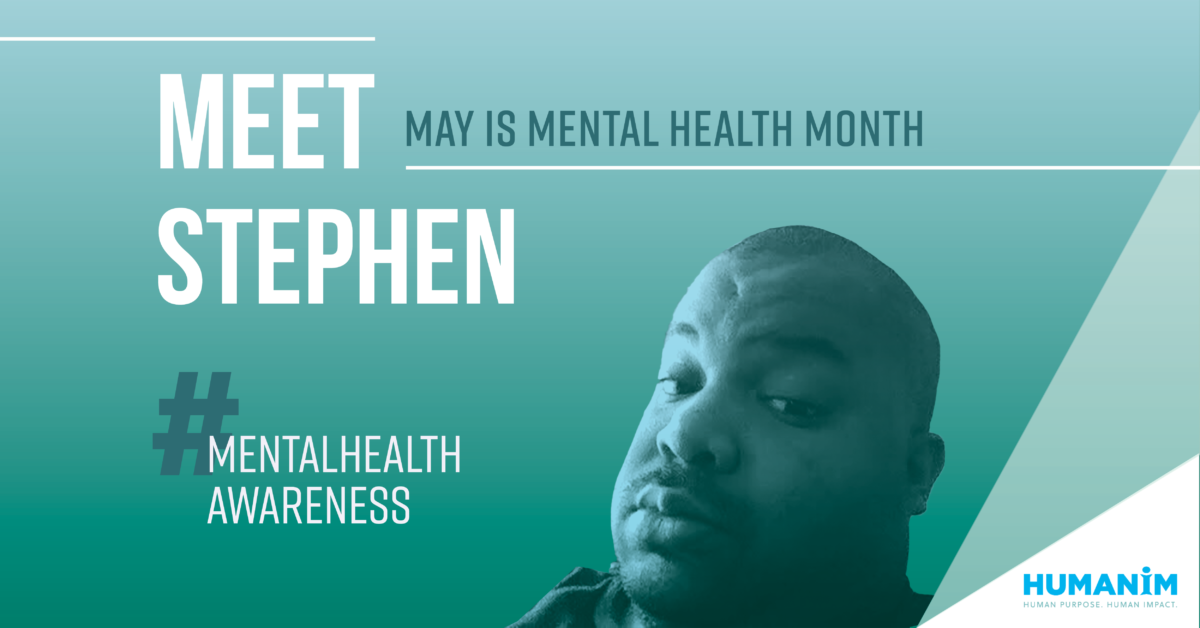 Stephen's Grandmother first helped him find support, and in 2004, he began services with Humanim. Stephen has participated in the Psychiatric Rehabilitation Day Program and the Residential Rehabilitation Program. He is now in the process of moving out of the Residential Rehabilitation Program and into his own apartment in the community where he will live independently with the supports of the Supported Living Program!
Since fall of 2018, Stephen has been employed at On Our Own of Howard County as a Peer Recovery Specialist, where he helps others through their own recovery process by sharing his personal experience with mental illness. He is also on the Local Behavioral Health Advisory Board with the Howard County Health Department.
"Having a mental health illness can be difficult but there is no shame in saying that everyone needs help. Humanim has been a great resource over the years that I have been involved in the programs – things are now stable and have worked out for me." – Stephen.
Meet Allen!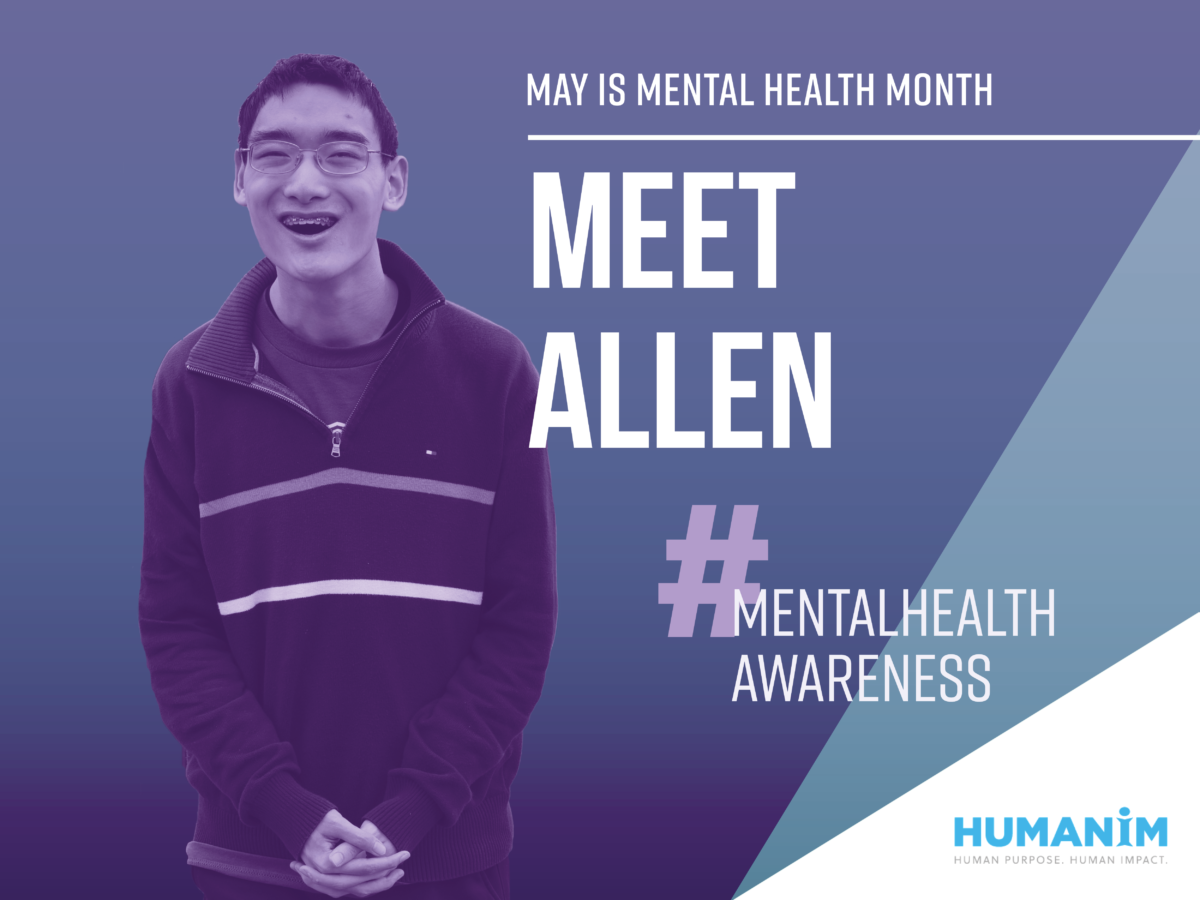 "Healthy Transitions is my favorite program to help you change yourself. It has helped me a lot with my personal health and in taking care of myself."
Allen was referred to Humanim's Healthy Transitions program in April 2018, which helps young people who are struggling with mental illness successfully transition into adulthood. An accomplished pianist, Allen had recently been accepted to Towson University's music program, but found the prospect of transitioning to life after high school daunting. Socializing and being separated from his family was very difficult for him, and he didn't feel like he could make the transition. "I felt like I worried a lot about it, and was very nervous."
Through the program, Allen began to socialize with peers through movies and workshops, as well as learn stress management and coping skills such as using imagery, taking a walk, and listening to music. His family and support team at Healthy Transitions, including his HT coordinator Dean with whom he is very close, encouraged him to try living on campus, and eventually Allen agreed.
When he first moved on campus, Allen felt anxious and angry and didn't want to leave his room. However, with the support of his HT team, he eventually began to adjust to living on his own. Although he still sometimes gets homesick, Allen is now enjoying his newfound independence and the perks of living on campus, such as the cafeteria food and his piano classes. He is also excited about his future, in which he hopes to one day become part of a symphony.
Allen credits his HT coordinator Dean for helping him build confidence through positive feedback and encouragement, and for allowing him to talk about his feelings. The HT program has given him the support to adjust to and enjoy his newly independent life, which he says is "pretty good."