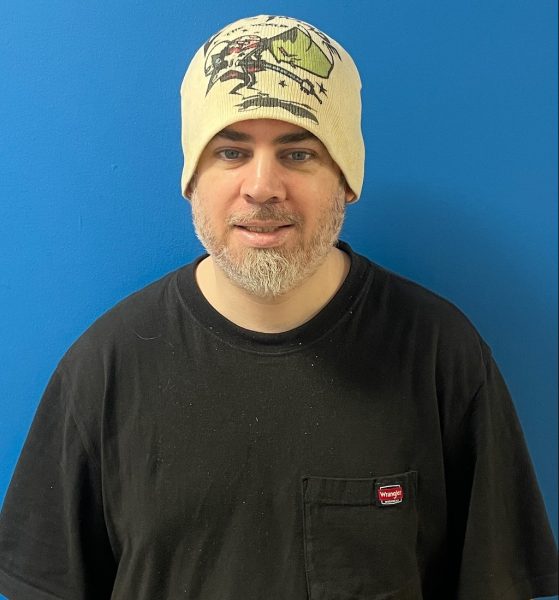 October 10 is World Mental Health Day. This year's theme, "Mental health is a universal human right" is an opportunity for all of us to come together to improve knowledge, raise awareness, and drive actions that promote and protect everyone's mental health as a universal human right.
Humanim's Behavioral Health Department serves individuals struggling with mental illness and substance use disorders. We embrace a person-centered recovery culture that empowers individuals to learn from their mistakes and successes and follow their own life's plan. Like all of Humanim's programs and services, our focus is on individualized care and self-empowerment.
In honor of this day, we're spotlighting Zachary. From the time he was thirteen, Zachary knew that he wanted to be a computer animator and design video games and movies. He entertained friends and family with his cartoon drawings of TV characters and schoolmates and worked hard to improve his craft. While Zachary was sure of his life path, he didn't know that his plans would be overshadowed by a chronic mental health condition. As the paranoia and behavioral challenges increased, he found it impossible to attend school. So, he dropped out of school at the end of 10th grade and received his GED.
Other issues came to the forefront as he engaged in heavy drinking and drug use in an attempt to manage the increasing symptoms of his condition, but he still hadn't forgotten his dream. He began to take college classes to stay on a positive career track. Thinking a change of location would help, Zachary spent a year in California going to college. However, upon return, it was clear his condition had not improved. Treatment was available to him but the combination of medication, street drugs and alcohol spelled disaster.
At the age of 25, Zachary became involved in the criminal justice system. Deemed not criminally responsible, he was court-ordered to a Maryland state psychiatric hospital. His next 14 years were spent in the state hospital system. He continued to draw and write but his life was on hold. Finally, in February 2021, he was released into a community-based hospital program in Sykesville.
This was an opportunity for Zachary to step back out into the world. He was surprised that so many changes had occurred in the tech world and that people used their phones for everything. The last time he had used a cell phone was when one had to pay for text minutes. Feeling ready for the next step, his treatment team referred him to Humanim's Residential Rehabilitation Program, which provides housing, case management, and psychiatric rehabilitation to adults with chronic, severe, and persistent mental health challenges.
Zachary moved into the residential program in August 2021. He was ready to take his life off pause mode and move on. One of the first things he did was connect with Humanim's Evidence Based Supported Employment Program to help him find a job. It didn't take long for his determination to pay off and he landed a job at a movie theatre. One of the perks was the ability to see movies that fit right into the genre he was focused on – computer animation.
He spent time adapting to the day-to-day world he now lived in. With a steady job, his next goal was to get a car. He had been saving for a while and was able to check this off his bucket list within two months of getting a job. Zachary was on an upward trajectory to achieve his life's goals but there was one more major area to address – college.
In January 2023 he enrolled in classes at the Howard County Community College. Classes are going well, and he feels like he is building a good life for himself. Learning how to manage his condition in a safe and supportive environment has allowed Zachary to focus on the steps he should take to achieve his life's goals. The only thing missing now is a girlfriend but that seems to be one area Humanim cannot assist in – he's working on that.
"Humanim is great," Zachary said. "They do everything they can to help you. They give you freedom and food on your plate…but you need to do some of it yourself."