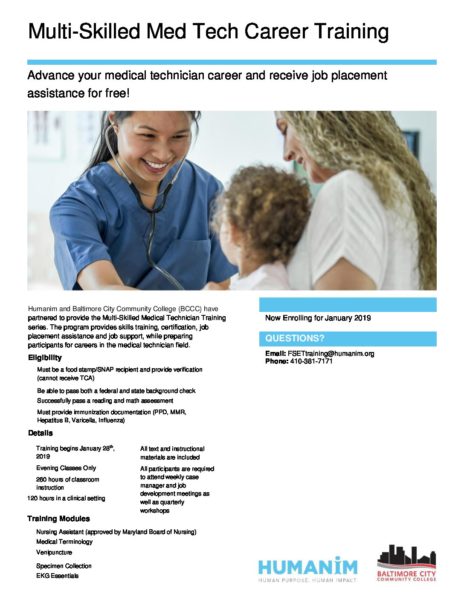 Interested in a career as a multi-skilled medical technician? Get FREE training, certification, and job placement assistance at Humanim.
Humanim and Baltimore City Community College (BCCC) have partnered to provide the Multi-Skilled Medical Technician Training series. This program provides skills training, certification, job placement assistance and job suppot, while preparing participants for careers in the medical technician field.
Get in touch soon. Our next program starts January 28, 2019!
Details:
Training includes: 260 hours of classroom instruction + 120 hours in clinical setting (all instructional materials are included).
Training modules include: Nursing Assistance, Medical Terminology, Venipuncture, Specimen Collection, EKG Essentials
Eligibility Requirements:
Must be a food stamp/SNAP recipient (cannot receive TCA)
Must successfully pass a federal and state background check
Must successfully pass a reading and math assessment
Must provide immunization documentation (PPD, MMR, Hepatitus B, Varicella, Influenza)
For more information, download our flyer or email us at: FSETtraining@humanim.org