Humanim is proud to support National Disability Employment Awareness Month (NDEAM). Held each October, NDEAM aims to educate about disability employment issues and celebrate the many and varied contributions of America's workers with disabilities. The theme of NDEAM this year is America's Recovery: Powered by Inclusion.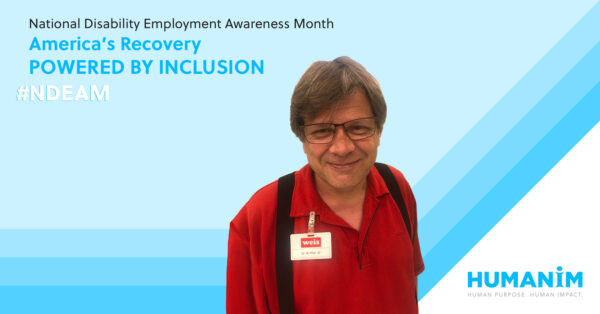 Meet Arthur! Arthur first joined Humanim's programs in 1991 and is currently part of our Vocational Services Program. He is a dedicated employee who truly takes pride in his work at Weis Market, where he has been employed for three years.
Arthur was initially hired in the Quality Assurance department, working two days per week to ensure the store was clean and running smoothly, from the carts to restrooms, to trash removal. Since then, he has worked his way into the Grocery Department, where he now works five days per week.
Arthur has worked closely with his employment consultant and team to improve his work skills, including flexibility in the tasks he can perform on the job, and has made great strides in his ability to communicate appropriately with his supervisors. When he isn't working, Arthur enjoys relaxing at home and visiting with his friends. We're glad to be a part of Arthur's employment journey and excited to see him continue to excel!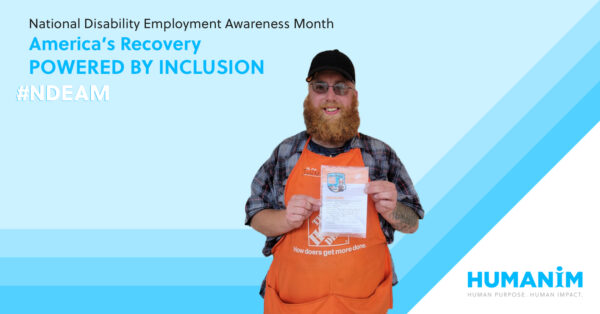 Meet John! John participates in Humanim's Vocational Services, where he works with his Employment Consultant, Stephanie, to develop job skills and advocate for himself on the job. John initially joined the program to have additional income, and worked closely with Stephanie to find a job placement that fit his interests and skills.
Stephanie shared, "I came across Home Depot hiring, and I let John watch the video on what Lot Associates do at Home Depot. John stated he would give it a try because he needed some money. When he was hired for the job, he was excited! Though he originally took on the job because of the money, and he now sees himself building a career at Home Depot."
John's career path has encouraged him to build leadership skills by has going the extra mile in his job. When he finishes his work, he goes to the inside of the store and asks if anyone needs assistance with anything. His supervisors and upper management speak very highly of him, stating he has helped the Lot Associates become more team-oriented, and even spend time together outside of work at least once a month.
"Other team members have been following John by taking the initiative to help in other departments. John has expressed that he loves working at Home Depot and has gone to management and stated that he would love to learn new skills and move up the ladder."
About his employment experience, John says: "Because [Humanim] helped me to get this job, one day I'm going to be a manager. I love working here, I love the people that I work with, and I love what I do."
As a model Home Depot employee, John has also helped open the opportunity for other individuals to have more job placements in the company. We're happy to be a part of John's employment journey and look forward to watching him climb his career ladder!