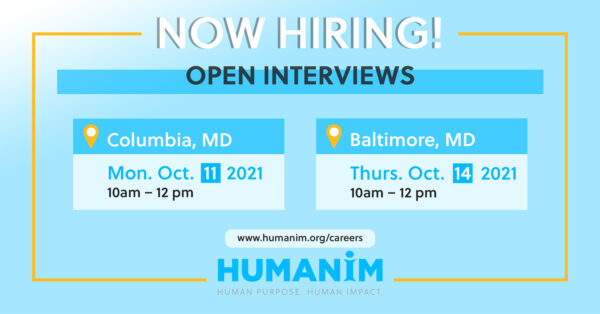 Join us this October for Open Interviews and discover your new career at Humanim! Attendees will have the opportunity to interview with a hiring manager immediately for positions in our Behavioral Health and Developmental Disability Services Divisions.
At Humanim, our employees are passionate about what they do, and we are passionate about serving our employees. We are committed to inclusive hiring and offer some of the best benefits in the field.
Open positions include:
– Residential Counselors
– Licensed Behavior Analyst (LBA)
– Direct Support Professionals
– And More!
Event Details:
Monday, October 11th, 2021 | 10AM- 12PM
Behavioral Health: 6355 Woodside Ct. Columbia, MD 21046
Developmental Disability Services: 9380 Gerwig Ln, Columbia, MD 21046
Thursday, October 14th, 2021 | 10AM- 12PM
Developmental Disability Services: 1701 N Gay St, Baltimore, MD 21213
About Us
Humanim is a social impact organization focusing on human services, workforce development, youth services and social enterprise throughout Maryland. Our mission is to support and empower individuals who face social or economic challenges — by building pathways to economic equity, opportunity, and independence.
Careers at Humanim
If you want to make a positive impact in your community, you belong here. We're always looking for driven employees with human purpose to join our diverse team. Our culture may be fast-paced and entrepreneurial, but our environment is friendly and inspiring. Our benefits are some of the best in the field, but the real perk is the knowledge that you're making a meaningful difference in the lives of people from all walks of life.
Humanim is an Equal Opportunity Employer. Qualified applicants will receive consideration without regard to age, race, color, religion, sex, sexual orientation, disability, or national origin. Pre-employment drug screening required. All applicants must be eligible to work in the United States.