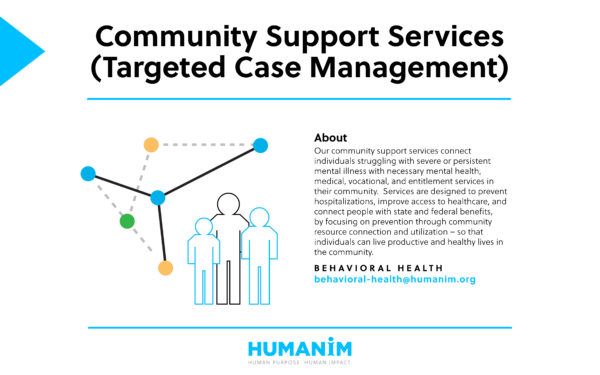 Program Spotlight: This month we spotlight our Community Support Services (Targeted Case Management) program!
Our Community Support Services program is part of Humanim's Behavioral Health Department. We connect individuals struggling with severe or persistent mental illness with necessary mental health, medical, vocational, and entitlement services in their community.
Services are designed to prevent hospitalizations, improve access to healthcare, and connect people with state and federal benefits, by focusing on prevention through community resource connection and utilization – so that individuals can live productive and healthy lives in the community.
About Humanim
Humanim is committed to supporting and empowering individuals who face social or economic challenges, by building pathways to economic equity, opportunity and independence. Our Human Services division serves individuals with special needs and behavioral health challenges, and has for over forty years. Our person-centered approach emphasizes individualized care, community integration and customized employment, with the goal of empowering clients to achieve both personal and economic independence.