Stone Farm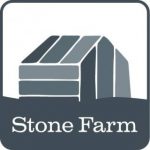 , the nationwide resource for reclaimed stone and brick, is excited to team with Details Deconstruction out of Baltimore, MD to create a line of reclaimed thin brick. Through the collaboration of efforts, Stone Farm will be able to expand their line of thin brick, and at the same time help others by being an integral part of this ongoing reclamation process that is currently taking place on the streets of Baltimore.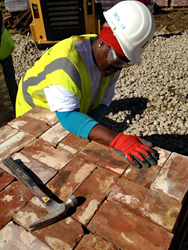 Details Deconstruction is a social enterprise of Humanim, a 501(c)(3) from Baltimore, MD that uses deconstruction as a means towards creating employment, reducing waste sent to landfills, and salvaging materials for reuse. "Stone Farm is both moved and inspired to be collaborating with Details Construction on such a unique program. Repurposing salvaged materials for positive re-use while also being able to offer a high quality brick tile with interesting and varied color options for our customers is something we strive for," says Stone Farm's President, Stephen Singlak.
"Baltimore's bricks are special- they've long been thought to be of superior quality, which is confirmed by a nearly 200-year history of shipping Baltimore bricks to cities up and down the East Coast. Through our partnership with Stone Farm, we feel like we're carrying on this tradition. We're immensely proud of our bricks, so we're thrilled to know that the bricks we salvage from Baltimore's iconic rowhouses will get second lives," says Max Pollock, Materials Manager at Details Deconstruction.
The benefits of deconstruction include:
Social Impact – Job Creation
Creates 6-to-8 times more jobs per project than demolition
Provides an ideal entry level position for individuals who have barriers to employment
Creates more jobs through the resale of reclaimed material
Environmental Impact – Waste Reduction
A greener alternative to standard demolition
Diverts thousands of tons of waste from landfills
In addition to the aforementioned benefits, the bricks coming out of Baltimore are some of the finest in the world, and were shipped to US destinations such as Philadelphia, New York, and Boston. This is due to the superiority of the clay in this vicinity. It is exciting that what could have been landfill, will now be turned into a brick tile for use in residential and commercial projects such as kitchen backsplashes, brick floor tile, and unique accent walls.
About Stone Farm
Stone Farm is the nationwide resource of reclaimed stone and brick, along with landscape stone and outdoor living solutions. Renowned for their breadth of distinctive products and collaborative approach, Stone Farm's seasoned, expert team of stone and brick specialists are passionate about providing architects, designers and homeowners with the unique materials they seek to create enviously beautiful living spaces. Stone Farm products are available directly or through Stone Farm-approved dealers. Please visit us Stone Farm at Facebook, Twitter and LinkedIn
Tweet This: @StoneFarm to team with Details Construction to create line of Thin Brick
Contact: Kim Charles, Digital Marketing. Tel: 203-270-2900 kcharles@stonefarmliving.com