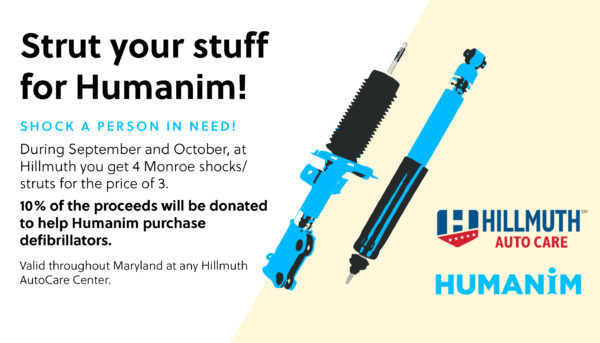 In need of new shocks or struts this fall? From now through October, Hillmuth Auto Care is offering 4 struts for the price of 3, as well as an additional $80 rebate from Monroe shocks & struts! 10% of all parts and labor will be donated to Humanim to help purchase defibrillators for clients.
Shocks and struts are essential vehicle parts that improve control, reduce premature tire wear, and shorten stopping distance. Help support human purpose & human impact this Fall, by purchasing some struts and shocks for your car!
Offer is valid at all Hillmuth Auto Care locations throughout Maryland. A big thank you to Hillmuth Auto Care for their community support.