Chaz Johnson, 18, has his act together.
This June, he will graduate from high-school. He recently started a 16-week paid internship at the Veterans Hospital in Elsmere where he has done things like man the front desk, man the computer that generates directions for patients, and work the coffee shop.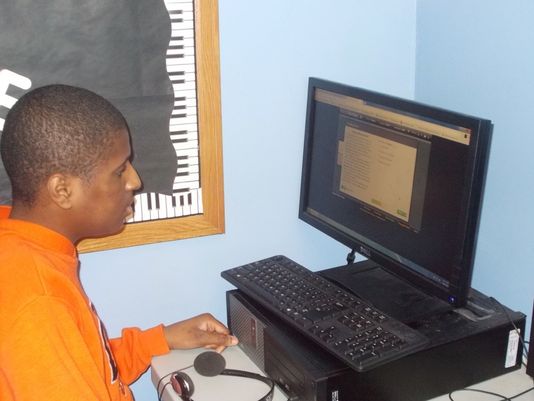 His job performance has gotten rave reviews so far.
"Chaz has done so well that I feel he will be able to secure a job upon graduation," said Cierra Hall, a program manager with Humanim, the company that employs him. "I am impressed that he initiates conversations with our veterans. And he has shown real initiative taking extra time to learn the layout of the building here so he is better able to give directions to our patients."
It's a proud time for mom Annette Chancy.
"I always knew he could do it. I always knew he could show people that he can be successful," Chancy said.
Johnson's journey has not always been easy. It rarely is for kids who have autism.
Only a few years ago, Johnson was struggling badly in school, staff at the High Road School of Delaware say. High Road is a school specifically dedicated to serving students with "unique challenges," like learning disabilities, emotional disturbances and autism spectrum disorders.
"When Chaz first started at the High Road School, he would often be disruptive in class, sent to the quiet room multiple times on a daily basis, would scream throughout the day and hardly completed his academic work," school director Ian Cassidy said. "He did not remotely resemble the model student he has become today."
Teachers decided they would play off of Johnson's love for cartoons and video games, using those as rewards for cooperation in the classroom. They also found that Johnson loved computers, so they found tutorials that helped him catch up.
"Once Chaz understood we were a team, the academic piece fell into place," said teacher Fred Pearson.
Upon graduation, Chancey says her son is interested in working in a nursing home or with animals.
Like many parents of people with special needs, she is worried that her son could be taken advantage of and intends to stay closely involved in his life. But she is proud to see him making his own money and becoming independent.
"It's time for him to change. He's growing up," Chancey said. "He has to be motivated. I'm very confident in him."
Though she acknowledges being the mother of a child with autism can sometimes be difficult, Chancey said she wouldn't change a thing about her son.
"That's the way God made him," she said. "Just love them. Love that child as if they didn't have a special need, and it will all be okay."
Contact Matthew Albright at malbright@delawareonline.com, 324-2428 or on Twitter @TNJ_malbright.
(Photo: High Road School of Delaware)